Schenken: Masi ready for F1 race director role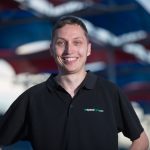 Michael Masi will have no problems in taking charge of a Formula 1 race for the first time in unexpected circumstances at today's Australian Grand Prix, according to respected race director Tim Schenken.  
The FIA appointed the Australian to take charge of today's race following the sudden death of long-time race director and safety delegate Charlie Whiting on the eve of the event.
Masi has most recently operated as a deputy race director for Supercars under former Formula 1 driver Schenken, who has witnessed his growth and rise through the official ranks.
The 39-year-old has also worked closely with the FIA and was set to take up a deputy race director role at a third of F1 events this year as well as overseeing F2 and F3 races.
While the Australian's appointment has arrived in tragic circumstances, Schenken, CAMS' director of racing operations, is proud to see Masi given a valuable opportunity.   
"It was natural that he would step into that role certainly here in Australia as Formula 1 race director," Schenken told Speedcafe.com.
"He knows me, he knows the circuit and he knows all the people in race control so it is probably quite a good lead in.
"He will have no problems at all and remember he is not alone, he has got a very good team around him. 
"Of course he has got the best marshals in the world. He is familiar with all of that. It is a good time to start.
"Absolutely I'm proud. I'm also proud because it shows the standard and quality of the officials we have in Australia. 
"What is really good is that he has got a lot of experience and he is a young man still. 
"It is a big deal, you couldn't get any higher in motorsport as an official."
The FIA is yet to confirm its succession plan following the death of the much loved and respected Whiting, but Schenken believes Masi is an ideal candidate.
"To be honest if the FIA don't take him now as a permanent role I'd be disappointed," he added.
"Absolutely he is ready, there is no question about it. It is just unfortunate circumstances."    
Meanwhile, CAMS president Andrew Papadopoulos said that CAMS will offer Masi its full support for what will be a bittersweet moment. 
"Obviously the circumstances are tragic and this is not the way any of us expected this to happen, but we are very proud of Michael and offer him our full support this weekend," said Papadopoulos.
"Charlie will be sorely missed and we are all and saddened by his sudden passing.
"Michael worked closely with Charlie throughout last year and that training was invaluable.
"Michael has also been a big part of CAMS' training and officials' programs, as well as taking on leading roles for Australian motor sport categories over many years."
Several teams and drivers have paid respect to Whiting with stickers placed on the cars and crash helmets while a tribute is planned for today's race scheduled to begin at 1610 AEDT.