Ricciardo 'flat' after mystery Australian GP retirement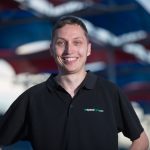 Daniel Ricciardo has left the Australian Grand Prix feeling 'flat' after yet another tough home race which resulted in an undiagnosed early retirement.
The Australian's run of misfortune at Albert Park continued when he found himself on the grass to avoid possible contact with Racing Point's slow starting Sergio Perez in the seconds after the lights went out.
Ricciardo kept his foot in before finding a path which ripped the front wing from the car and forced him to pit for repairs at the end of the opening lap, leaving him at the rear of the field having started from 12th.
The seven-time grand prix winner managed to make small inroads before the team radioed to retire the car on lap 31.
His latest stroke of Australian Grand Prix bad luck follows losing second position to a disqualification in 2014 and then failing to make the start on time due to an engine issue in 2017.
Last year he copped a three place grid penalty for driving too fast back to pits in red flag conditions in practice before going on to finish fourth.
"Flat," said Ricciardo when asked to describe his emotions.
"I feel like it is hard to get things going here but also today I feel I was pretty unlucky.
"I just put two wheels in and the next thing there was a massive gutter ditch which I don't feel is probably on many places; it is what is.
"It is tough, I feel like the whole week and we are always pushing uphill and you can never do enough, but I feel we do more than enough, I don't want to blame that. 
"I feel flat for more reason than one.
"I still don't know (why the retirement) to be honest.
"I do believe we had a problem so I don't think we were playing safe, I thought it was (playing safe), but apparently we had some issue so I hope it's not greater than that."
Reflecting on the start, Ricciardo thought he was going to be ok at the start before the pathway, which effectively formed a ditch, emerged.
"Sergio's start wasn't great," he added.
"I had a bit of a run, he made a little flinch, but when it happens that quick you see him move so I moved but then he straightens up, but the next thing I'm on the grass.
"You never know how much he is going to move because he was in front at the time, you just follow his initial reaction, and that second one just put my wheel in the grass. 
"When I hit the grass I wasn't too concerned, I thought I would just drive through it and I thought I would have enough momentum to stay alongside him but then that ditch was there and that was it."
Ricciardo's team-mate Nico Hulkenberg managed to bring the sole remaining Renault home in seventh, proving the car had pace to score points.