Supercars to conduct centre of gravity test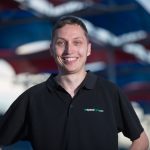 Supercars is set to run a centre of gravity test across a range of cars amid claims from rival teams that the new Ford Mustang has an advantage in this department.   
Speedcafe.com has learned that 10 cars, including examples of the Mustang, Holden ZB Commodore and Nissan Altima, will have their centre of gravity assessed to allow the category to see how the cars vary.
The cars will head to the premises of a Melbourne based team where the test is expected to be carried out on Monday, following this weekend's second round of the championship at Albert Park.  
Centre of gravity has emerged as a hot topic following the launch of the Mustang, which has enjoyed a perfect start, claiming all six pole positions and three race wins to date at the time of publication.
The Mustang finished in the top five places in yesterday's 25 lap race.
Reducing the centre of gravity in a race car improves handling.
This can be achieved be smartly ballasting a car by keeping weight as low as possible in the chassis to meet Supercars' minimum weight figure of 1395kg. 
Centre of gravity was brought into the spotlight last year when the ZB Commodore burst onto the scene with increased use of composite panels, which resulted in a lighter car and the opportunity to move ballast lower in the car to reach the minimum weight.
Currently there is no rule governing the centre of gravity of Supercars.
However, teams have called for centre of gravity to be managed better amid claims that the Mustang, while legal, has a clear advantage in this area.    
Supercars head of motorsport Adrian Burgess refused to discuss any plans for a possible centre of gravity test when asked by Speedcafe.com. 
"We're not going to make any comments on it," Burgess told Speedcafe.com.
"Clearly the category has got a right and the ability, and it wants to ensure we've got equitable racing, so we'll do everything that we need to do when we need to do it.
"We want to make sure we're dealing with facts and you never get a good reaction from a knee-jerk reaction, so everything needs to be looked at and in the fullness of time we'll do whatever we need to do."
Supercars will return to action today with Race 4 scheduled for 1250 AEDT.