Splitter mix-up hampered SVG at Albert Park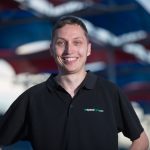 Triple Eight has attributed its front splitter dramas for Shane van Gisbergen at Albert Park down to an internal mix-up rather than an intrinsic problem with the components.  
Van Gisbergen was restricted to just one timed lap in opening practice on Thursday after the team mistakenly fitted a damaged splitter to the #97 Red Bull Holden. 
The New Zealander was onto his third splitter by Practice 2.
According to the team, the original front bar suffered damage from the Superloop Adelaide 500 and was due to be repaired at Albert Park as the squad was unable to complete a repair before its trucks left the workshop for Melbourne.
Splitter failures were prominent when the ZB Commodore first burst onto the scene last year before upgrades to the components significantly reduced issues.
"We had a splitter issue in the first session when the splitter that was on the car shouldn't have been on the car as it was one that needed a repair," Triple Eight team owner Roland Dane told Speedcafe.com.
"The second one that was put on was also put aside for that and they (team members) just picked up the wrong one. 
"As soon as it had the right splitter on it was sorted. 
"It (the splitter) was damaged before and because of the quick turnaround time they were put in the truck to fix here in case we needed them as we haven't got enough to cope with these short turnarounds and they just put the wrong one on."
Van Gisbergen was however able to recover the lost ground by qualifying fifth for today's opening race before a mistake saw him line up 11th for the second heat.
Splitter issues were not isolated to van Gisbergen as Brad Jones Racing's Nick Percat also encountered a drama in Practice 1.
"I think we are always on the cusp of having problem with splitter flap," team owner Brad Jones told Speedcafe.com.
"It is one of those things. Once you've had a front bar do that there is a lot of work to get it back under control."
Supercars return to the track for two qualifying sessions today which will set the grid for Saturday and Sunday's races.