Ricciardo hampered by 'strange' seatbelt issue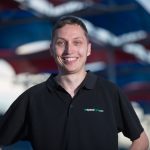 Daniel Ricciardo has revealed that a 'strange' seatbelt issue hampered his start to the 2019 Formula 1 season with new employers Renault.
The Australian lost valuable track time in Practice 2 at Albert Park as Renault worked to resolve an issue in securing its driver in the cockpit.
As a result, it delayed Ricciardo from joining the session in which he ultimately finished eighth, one spot behind his new team-mate Nico Hulkenberg.
"We were a bit delayed getting out for both runs – just a few little things with the belts," said Ricciardo.
"It was actually strange, because they were really loose. Then they made a small adjustment and they couldn't even tighten them. It is like the adjustments were out. We will figure that out.
"We wanted to go out but it was frustrating for the mechanics as well.
"I don't know what went on because the belts… the measurements weren't adding up. I haven't got fat, I know that's what you were about to ask me. I've been too busy to be eating!
"We could have got a few more laps in both runs but in the end we did what we had to. I wouldn't say it was down to a lack of track time, it was just figuring out what to do.
"It is a bumpy circuit so working out what to sacrifice ride for, to take the kerbs and the bumps well or to be aggressive to get the most downforce out of the car."
Ricciardo was outperformed by Hulkenberg in both 90 minute practice sessions as the seven-time grand prix winner continued to adjust to his new surroundings.
The West Australian was narrowly pipped by Hulkenberg in Practice 2 as he ended the day more then a second adrift of the pace setting Lewis Hamilton (Mercedes).
Reflecting on the performance, he expects to be learning from Hulkenberg, who is in his third season with the Renault team.
"It's hard to read," added Ricciardo. 
"The short run at the end was okay. The long runs not so good.
"There was still quite a lot to learn with the car and still probably some ways to set it up – a few tricks here or there. 
"Nico obviously has a bit more knowledge with that so I just need to try to understand a bit of that direction as well.
"For now probably I will learn a few things from him and, as time goes on, hopefully he will learn a few things from me.
"But I think the car doesn't look too bad for now. His long run looked better than mine and quite impressive, so that is positive."
Ricciardo will return to action on Saturday for one final practice ahead of qualifying which is scheduled for 1700 AEDT.