Verstappen receives Supercars hot lap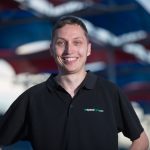 Red Bull Formula 1 driver Max Verstappen has experienced a Supercar first hand after going for a hot lap of Albert Park with Jamie Whincup at the Australian Grand Prix.
Verstappen climbed aboard the passenger seat of the #88 Red Bull Holden Racing Team ZB Commodore to witness Whincup at work at Albert Park, prior to this morning's opening Supercars practice session.
"I was surprised how much he trusts me," Whincup told Speedcafe.com following the experience.
"I was really concerned about was making sure the car felt good and I could actually give him a good experience. The last thing I wanted to do was give him a half-arsed experience of a Supercar.
"He said he was surprised at the low speed grip. The low speed grip of the car is quite good, we've just got no aero," he added.
"We don't want aero because you want to be able to follow each other and rub door handles and not be too concerned. He had a good experience, like all Euros you get in our cars."
This is not the first time he has sat in Supercar having been given a tour of a Red Bull Holden VF Commodore at the 2017 Australian Grand Prix thanks to mutual sponsors Red Bull.
Verstappen's Supercars hot lap arrives a day after his former Red Bull team-mate Daniel Ricciardo took the wheel of Rick Kelly's Supercar for laps at Melbourne's Calder Park.