Ricciardo 'intimidated' by 'big deal' Supercars outing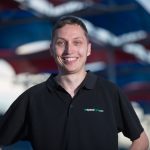 Daniel Ricciardo has admitted to being nervous and intimidated by a 'big deal' opportunity to drive a full blown Supercar.
The Renault Formula 1 driver took the wheel of Rick Kelly's Castrol-backed Nissan Altima for laps at Melbourne's Calder Park Raceway in the lead-up to this weekend's Formula 1 Rolex Australian Grand Prix.
A long time fan of the category having grown up watching Supercars, the seven-time grand prix winner revealed the chance to sample a V8 Supercar was a big career moment and one to tell his family about.
Ricciardo's only previous Supercar experience came in 2016 when the West Australian piloted Triple Eight's Holden Sandman Supercar ride car at Sandown.
Despite facing the intense pressure of racing in motorsport's top tier, Kelly's Supercar proved just as intimidating.
Ricciardo was joined in the cockpit by Kelly before he was let loose for a brief solo run.
"Honestly, I was quite nervous because it's something I've seen my whole life," said Ricciardo.
"People might be like 'you drive in F1, what's a V8 to you?', but I don't look at it in the same league. It's a totally different car.
"I see that as the top of the tin-top cars. For me that's the best of its calibre, and that's intimidating because I don't know it.
"And again I've watched it for so many years. I was nervous, I guess, because it's a big deal.
"One hundred per cent, I'm going to tell Dad that I drove a V8 Supercar. It is a big deal to me."
Although nervous at the prospect of driving a Supercar, Ricciardo thoroughly enjoyed the experience that was put on by Castrol, a mutual sponsor of Kelly Racing and the Renault F1 team.
His efforts behind the wheel were met with approval by Kelly, who believes the F1 star could quickly make the transition to racing Supercars.
"Sometimes these, let's call them media events, aren't that exciting, putting it politely," Ricciardo added.
"But for the first time I got to drive a Supercar, that's pretty cool.
"I knew I'd like it. I was just more nervous that I wouldn't be good at it.
"I'm not saying I was, but I was scared that I'd be scared. I really liked it."
While focussed on his Renault F1 debut at Albert Park this weekend, the F1 ace will keep an eye on the Beaurepaires Melbourne 400 Supercars support action.
"I enjoy watching them (the Supercars races)," he said.
"Sometimes we have commitments and we can't. But every year I've managed to see some of it.
"For me it's nice to watch because I'm a bit of a fan. But it's also nice to see if there are any little things where someone is overtaking, maybe you can learn something.
"It's good to switch off and watch something without someone talking. I'll watch what I can."
Ricciardo is set to kick off his F1 campaign on Friday with opening practice at midday AEDT.