Alonso eyeing future Bathurst 1000 wildcard run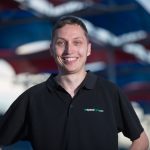 Fernando Alonso is eyeing a future wildcard run at the Supercheap Auto Bathurst 1000, according to Walkinshaw Andretti United co-owner and McLaren Formula 1 boss Zak Brown.
The two-time F1 world champion has tabled his desire to contest the Great Race now that the Spaniard has departed motorsport's top tier. 
Walkinshaw Andretti United has long been keen to run a wildcard and actively looked into a bid last year before abandoning due to commercial reasons.
However, the squad is pursuing a wildcard for this year and future seasons with Alonso a candidate for 2020.   
Alonso almost sampled a Supercar for the first time in late 2017 when Brown was driving the 2011 Bathurst winning Walkinshaw Racing Commodore, which he owns, at Spain's Aragon circuit.
The car ran out of petrol just before Alonso was due to step in.   
"He has not (jumped in my Supercar) but he remains very interested in Bathurst and he wants to go win all the big races," said Brown at this weekend's Formula 1 Rolex Australian Grand Prix.
"He considers Bathurst to be one of those. I don't think we will see him in 2019 but wouldn't rule him out for the future. 
"He wants to tick all the big boxes; he has done the Daytona 24 Hours now and he considers Bathurst to be a major sporting event and think the cars are cool. He almost had a go (in my car at Aragon) but we ran out of petrol. 
"I wouldn't be surprised to see him in one of our cars in the future."
All three of Walkinshaw Andretti United's co owners Brown, Ryan Walkinshaw and Micheal Andretti are in attendance at Albert Park to witness a Supercars race together for the first time. 
Andretti and Walkinshaw have once again confirmed the team's intent to work on fielding a wildcard at this year's Bathurst 1000 showpiece from October 10-13. 
"We are working on it; we would love to do it but we are not there yet," said Andretti.
Walkinshaw added: "If the opportunity arises and we find a sponsor wants to all three (Pirtek Enduro Cup races) that would be exciting but let's focus on doing one and doing it properly and then we can always go from there. 
"If we manage to get something up and running it can maybe open some doors for that to progress into more races the following year. Let's take our first step before we can run."