Ricciardo drives 'awesome' Nissan Supercar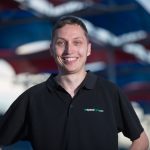 Daniel Ricciardo swapped his Formula 1 car for a Supercar in the lead up to this weekend's Formula 1 Rolex Australian Grand Prix season opener.
The Renault F1 driver took the wheel of Rick Kelly's Castrol backed Kelly Racing Nissan Altima Supercar for laps at Melbourne's Calder Park Raceway.
CLICK HERE for an extended image gallery.
It was the first time the seven-time F1 race winner has sampled a full race specification Supercar having previously driven Triple Eight's Sandman Supercar ride car prior to the 2016 Australian Grand Prix during a sponsor event for Red Bull.
Ricciardo was joined for a run with Kelly in the passenger seat for an outing before going for a solo run in the car at the media event put on by Castrol, a mutual sponsor of the Renault F1 team and Kelly Racing.     
The West Australian, who is gearing up for his F1 race debut at Renault after switching from Red Bull, was impressed by the machinery which he labelled as 'awesome'.
"I guess, (this is) the closest thing I've had to driving a V8," said Ricciardo.
"But it didn't really want to drive in a straight line. That actually scared me. Probably because of that I was like 'If that's how they really are…' But this felt more race-ready (than the Sandman I drove).
"It was cool. They're fast as well. It's got some ponies.
"Coming onto the drag strip here where it was a bit slippery, that was my favourite part. It would always snap out a bit. That was fun.
"The problem is I'll get in the F1 car on Friday and be like 'this feels weird'," joked Ricciardo.
"I'll do an install lap and I'll be like 'right this feels normal'. But it was cool just to loosen the cobwebs.
"There is so much media this week, so to do something active to keep me firing was really cool."
Ricciardo particularly enjoyed the sound of the Supercar when asked what stood out from the experience.
"It's the sound (I enjoyed the most) I didn't have ear plugs, I probably should have worn ear plugs," said Ricciardo.
"But yeah, the upshift – pulling a stick feels good.
"A paddle (shift) is easy, it's made my life easy as a race car driver because I can't heel-and-toe.
"But all that sort of stuff. The vibrations, it all just feels raw. The downshifting and banging it through and hearing it backfire. It was awesome."
Ricciardo admitted Kelly's feedback was a boost in understanding how to tame the Altima around the track.
"He (Rick) was good. I could see out of the corner of my eye what he was doing with his feet," he said.
"I don't know if that was him being nervous or he was trying to show me when he'd brake.
"I was keeping an eye on that because that helped me pick up some reference points. Then, I had a look a few times and he was laughing and smiling."
Ricciardo will return to his Renault F1 car on Friday when opening practice for the Australian Grand Prix begins at midday AEDT.