Kelly: Ricciardo 'like a robot' in Supercars outing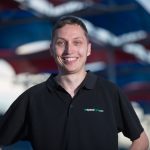 Rick Kelly is confident Daniel Ricciardo could quickly adapt to driving a Supercar after the Renault Formula 1 star logged laps in a Kelly Racing Nissan.
Ricciardo jumped aboard Kelly's #15 Castrol backed Altima for a brief run at Melbourne's Calder Park Raceway in the lead up to this weekend's Formula 1 Rolex Australian Grand Prix.
An opportunity to drive a race specification Supercar for the first time arrived courtesy of a media event put on by Castrol, a mutual sponsor of Kelly Racing and Renault F1 team, Ricciardo's new employers.
Having spent a career climbing the single seater ranks to F1, driving a V8 touring car proved to be uncharted waters for seven-time grand prix winner.
Ricciardo was closely monitored by Kelly, who sat in the passenger seat before letting the former Red Bull F1 driver loose for a solo run.
Kelly was impressed by how Ricciardo adapted to the machinery which left the 2006 Supercars champion confident Ricciardo could quickly make a touring car transition.
"Watching Dan in the Supercar, there's no doubt that he could get the hang of this and race it successfully in a very short amount of time," said Kelly.
"We've seen so many international drivers come over and try and drive a Supercar after very successful careers in other forms of motorsport and not do so well at it, but from my point of view, watching him in that, he would get hold of it and throw it up the front very, very quickly.
"Dan's obviously used to driving an F1 car that you obviously have to be very quick with, things happen a lot quicker in an F1 than they do in a Supercar, and so it was very impressive to sit next to Dan in a Supercar and watch how he reacts to the car moving around and just watch his inputs.
"I mean, the car starts to slide a little bit and he was reacting to it well and truly before I would even think about it, and so he's an absolute machine and almost like a robot inside the car, and from my point of view, that was really great to witness.
"Every single lap, he would just step it up a little bit in the braking and everything, to the point where I think he was very much on the limit of the car after five or six laps, and everyone knows just how difficult to drive a Supercar is, so that's an absolute credit to him."
Kelly admitted the opportunity to watch Riccardo drive his car from the passenger seat was a special experience.
"Normally you sit next to a driver and critique them a little bit," Kelly added.
"For me, it definitely wasn't the case; it was watching his inputs and learning from the way he went about it.
"He was very kind on the machinery, obviously, so shifting well and truly early and stuff like that, which was pretty nice of him.
"But to see the way he got in, went out, and did laps with me in the car with him, and then he stepped it up every single lap, just crept up on the brake markers and changed his inputs to improve every single lap, I mean, that's why he's the champion he is.
"And for me to sit next to him in the car and witness that firsthand was pretty special."
Kelly will return to the seat of his Altima tomorrow when practice for the Beaurepaires Melbourne 400 begins at 1250 AEDT.
CLICK HERE to watch vision from the outing.
CLICK HERE for a gallery from the event.