Jones predicts podium visit for Ricciardo in 2019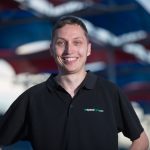 Formula 1 world champion Alan Jones is predicting that Daniel Ricciardo will land a podium and possibly snare a victory in his debut season with Renault.
Expectations by Ricciardo's own admission have been lowered for the 2019 campaign having moved to a midfield operation from regular race win and podium contenders in Red Bull.
Former world champions Renault are yet to score a podium since their return to F1 as a full factory team in 2016 and have been well adrift of the top three teams, Mercedes, Ferrari and Red Bull.
Pre-season testing has offered signs of improvement but Ricciardo still expects himself to be locked in midfield battles. 
However, 1980 F1 world champion Jones believes Ricciardo's class could be enough to see the Australian and Renault emerge as a surprise package.
"I wouldn't be at all surprised to see Daniel not only on the podium, but if you really want a surprise it wouldn't surprise me if he actually pulled one out of a hat," Jones told Speedcafe.com.
"I think all things being equal and if everything plays out right for him, I think he could very well win a grand prix.
"I'm hoping that Daniel might find himself at the right place at the right time, because I reckon that Renault are making strides in their engine department as well."
Ricciardo's move to Renault was among one the biggest surprises during last year's silly season.
While many have questioned the switch, the seven-time grand prix winner is adamant the decision was not motivated by money and will ultimately prove the right call.
This is a view shared by Jones, who expects Ricciardo to grow under number one driver status at Renault. 
"I think he's done the right thing and I spoke to his old man (Joe Ricciardo) not long after he did it and I told him the same thing," he recalled.
"He's gone to a place where they're going to treat him like a silkworm and drivers respond to that.
"I don't care what you say, drivers like to have an ego and if they really look after him and all the rest of it, he'll respond to that as well and I think that team-mate Niko Hulkenberg will lift his game and I think the two of them could work very well together."
The Formula 1 Australian Grand Prix will kick off on Thursday with F1 cars hitting the track for the first time in Friday's opening practice at midday AEDT.