Double duty for Davison with F1 demo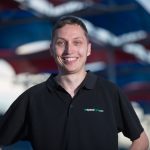 Will Davison will pilot the Minardi Formula 1 two seater in addition to his 23Red Racing Ford Mustang at this weekend's Beaurepaires Melbourne 400 at Albert Park.
The Tickford Racing driver heads into what will be a busy week lying fourth in the championship standings following an impressive showing at the Superloop Adelaide 500 opener.
While Supercars will remain the priority for Davison, he will once again have the opportunity to return to his single seater roots by conducting demonstration laps in Formula 1's V10 powered two-seater.
Davison has been a regular behind the wheel of the machine at the Australian Grand Prix courtesy of his open wheel knowledge from stints in Formula Ford, Formula 3 and A1GP in the early stages of his career.
The two-seater will be in action from Thursday to Sunday.
"I love the Grand Prix weekend, I love Formula One, I'm pulling double duties as well with the Formula One two-seater, so it's a busy weekend for me, but obviously Supercars is wholly and solely the priority," said Davison.
"Certainly we're going in with a little more confidence than Adelaide, we can hopefully start setting those goals a little bit higher."
After claiming Milwaukee Racing's best ever finish of fourth at Adelaide, Davison is eager to jump back behind the wheel of the Mustang to continue his and the car's strong start to the 2019 campaign.
"I'm super excited to get back in the car, I really enjoyed Adelaide and being back here in this organisation with Tickford and 23Red Racing," Davison added.
"I think there's a good morale in the team, we're all pumped to go a completely new style of circuit. 
"(There are) very different demands on the car, so we're keen to put the Mustang through its paces at Albert Park and see if we can get a handle on it around this type of track."
The Beaurepaires Melbourne 400 begins tomorrow with the Supercars field set to hit the track for opening practice at 1250 AEDT.