Whincup focussed on unlocking ZB potential, not Mustang rivals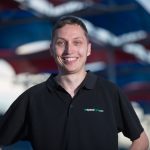 Jamie Whincup says his full focus is on unlocking the untapped potential from his ZB Commodore as he refuses to buy into the parity debate surrounding the Ford Mustang.
The seven-time Supercars champion heads into this weekend's Beaurepaires Melbourne 400 at Albert Park lying third in the championship, after finishing second and seventh at the Adelaide season opener.
While plenty of talk centred around the dominant display from the Ford Mustang and in particular Scott McLaughlin at the season opener, Whincup says that his team was far from its best in Adelaide as the squad continues to adjust following the twin spring damper ban. 
He is also choosing to steer clear of talk suggesting the Mustang has an unfair advantage with Albert Park expected to further showcase the qualities of Ford's new Supercar. 
After admitting to a tough pre-season test at Phillip Island adjusting to the linear spring damper set-up, Whincup believes there is plenty of potential left in his car.  
"I'm not going to buy into the aero or the parity talk, everyone else has got plenty of opinion on that," Whincup told Speedcafe.com.
"We walk away from Adelaide being P2 and P3 in the championship between SVG (Shane van Gisbergen) and I, so we will take that. 
"Car #17 was very fast and we just need to grind away at it now and improve the car speed.
"For me the only thing in my brain is we can do a better job mechanically. 
"The car isn't where I would like it to be with all the tools available to us. 
"We are absolutely full steam ahead trying to improve the car and the balance with what we have available to us. 
"Until we get it perfect, that is where my full focus will be. 
"Definitely (there is lot left in the car). The change to linear (springs) has meant that my car in particular isn't anywhere near as nice as it was. 
"It is just a matter of finding that balance again. We didn't do it at Adelaide but we will try again at AGP and keep chipping away until we get there.
"You can't have the best of both worlds anymore. You can't have a car that turns well and drives off the corner well. 
"We have found a bit of a happy medium between the two."
Whincup heads to Albert Park off the back of a successful run of four podiums, including a win, to claim the inaugural Larry Perkins Trophy last year.
"We had a reasonable run there last year and it was a great honour to pick up the Larry Perkins Trophy for the first time," he added.
"We will prepare like we do all the time and we are confident we can be in the mix come Albert Park."
Supercars will hit the Albert Park Circuit for the first time with opening practice scheduled for 1250 AEDT.