TCR Australia Hyundai in AGP speed comparison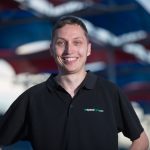 TCR Australia will be represented at the Formula 1 Rolex Australian Grand Prix with a Hyundai TCR machine due to participate in the Ultimate Speed Comparison.
One of HMO Customer Racing's Hyundai i30 N TCR fleet will hit the Albert Park circuit when it takes on a Hyundai i30 N road car and a V10 Cosworth-powered Minardi two-seater F1 car.
The trio of cars will take off at different time intervals to conduct a lap of the circuit in what has become a traditional on track entertainment session at the Australian Grand Prix.
Nathan Morcom will drive the Hyundai race car while Hyundai test pilot and international rally driver Brendan Reeves will take the controls of the road-going i30.
This event will mark the first competition for a TCR Series car in Australia ahead of its opening round of the 2019 series at Sydney Motorsport Park on May 17-19.
"Lining up road and race versions of the Hyundai i30N alongside the Minardi F1 Two-Seater will make for an entertaining and visual demonstration of speed differences, which is what the MSS Security Ultimate Speed Comparison is all about," said Craig Fletcher, General Manager – Motorsport, Entertainment & Industry, Australian Grand Prix Corporation.
Australian Racing Group (ARG), promoters of the new seven round two litre touring car series, see the outing as an ideal way to introduce TCR cars to Australia.
TCR Australia has confirmed just one driver for its 2019 campaign so far.   
"It's fantastic to have the Hyundai TCR car on track and on display at Australia's biggest motorsport event, the Formula 1 Rolex Australian Grand Prix," said Matt Braid, ARG director.
"The speed comparison will be the first 'competition' event for a TCR car in Australia, so it's a great opportunity for the big crowds to see, hear and feel the latest touring car category that is coming to our country.
"I believe that most people who have never seen or heard a TCR car will be genuinely surprised with their speed and sound.
"We are all really looking forward to seeing the Hyundai on track, racing against its road-going cousin and the two-seat F1 car."
The Ultimate Speed Comparison will be held four times over the Australian Grand Prix weekend beginning on Thursday.