Easing costs behind Holden's support deal for teams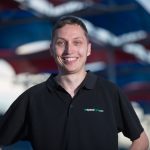 Easing costs for teams was among the reasons for Holden to offer support deals to all Commodore squads as part of an increased commitment to Supercars.
As revealed by Speedcafe.com in Adelaide, Holden has elected to expand its backing to teams outside of its factory team deal arrangement with Triple Eight, which began from 2017.
The Australian brand has offered packages that includes a spare parts deal with the arrangement arriving as the Holden brand appears to be working towards a renewal of its factory deal with Triple Eight.
Marketing boss Kristian Aquilina says the move is designed to ease the costs for all Holden teams outside of Triple Eight which comes as the Supercars increases it focus on improving sustainability with raft of cost saving measures.   
"What we've simply done is recognise the advocacy we get from the teams," said Aquilina.
"We're recognising what they do for us as a brand with a bit of additional support from what we've been doing in the last couple of years. 
"It's not just a parts deal, it's a package of stuff. 
"I don't want to go into detail, but it helps ease their costs a little bit.
"I hope it's a small start to a longer-term relationship with all of the Holden teams. 
"It's recognition of the fact that whenever they get out there driving a Holden-badged car around that track, they're representing us. 
"And hopefully doing it in a what that advocates the brand. 
"That's the opportunity we have with a closer relationship – we can talk about what our combined objectives are, and how we can help each other get there."
Holden's decision to step up its support has been in the works since last year with the plan only now coming to fruition. 
"We're only just executing now, but it's something we've been talking about as a company since the new marketing team came on board, and recognised our involvement in the sport, shaping what we want it to look like in the longer-term, and realising that perhaps whatever happened in the past, let's put that behind us," added Aquilina.
"We felt that the right decision for us as a brand in the future is to be more involved than just narrowing it to one team. We've got a pitlane full of Holden advocates, that can be harnessed for good.
Aquilina says Holden is not making any demands from the teams in return for the support packages it is offering. 
Erebus Motorsport made a public display of the new support received from the Australian manufacturer by electing to replace the Erebus logo with Holden badges on its cars' grilles.