Holden in positive talks to renew Triple Eight deal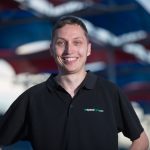 Holden is involved in positive discussions regarding the extension of its factory team relationship with Triple Eight beyond 2019.
The Australian brand recommitted to Supercars in 2016 with the announcement of three-year factory deal with Triple Eight which saw he squad charged with the development of the ZB Commodore Supercar that debut last season.
Entering into the final year of the arrangement, talks between Holden and Triple Eight have begun with the early indications pointing to a renewal of sorts.   
Holden has on several occasions revealed its desire to remain involved in Supercars despite a change in management last year, that saw former Toyota president Dave Buttner take over as managing director while Kristian Aquilina was installed as the marketing boss.  
Aquilina has emphasised the importance of motorsport to the brand having described the exposure it creates as a key part of the manufacturer's marketing strategy around the new ZB Commodore. 
While discussions are underway, there is no deadline on when a commitment needs to be reached with Triple Eight, which took over the factory Holden team deal from Walkinshaw Racing in 2017.
"We're positive about a continuing relationship with Triple Eight," said Aquilina when asked about Holden's involvement with Triple Eight beyond this year. 
"We're just talking through what that looks like, the shape of that, and we've got a bit more time to talk about it. There is no gun to our head. No deadline.
"The people who need to know where things are at are well-informed, they can all make the right decisions on what they do next.
"Talks are ongoing, they're positive, and when we've got something to say about that we're happy to have a chat. 
"At the moment, those talks are between the team and ourselves, that's the best way to keep it until we land on what the arrangements are going forward."
News of positive talks with Triple Eight has arrived following Holden's move to step up its commitment to Supercars by offering support packages to all Commodore teams.
The deal, revealed at the Superloop Adelaide 500, is a sign to the brand's commitment to motorsport which has been openly welcomed by Holden teams.
A parts deal is among the features of the arrangement that has been offered to Commodore representatives.  
Holden's decision to increase its support has coincided with Ford's increased commitment to Supercars through the new Mustang Supercar.