Stanaway undergoes Paul Morris coaching to sharpen skills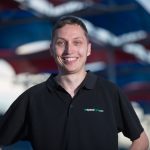 Richie Stanaway has headed to Paul Morris' Norwell Motorplex this week in a bid to sharpen his technique behind the wheel.
The Garry Rogers Motorsport driver has headed to the Queensland facility for a two-day course driving machinery under the guidance of former Supercheap Auto Bathurst 1000 winner Morris.
GRM's new naming rights sponsors Boost Mobile has instigated the program that has seen Stanaway drive a Toyota 86 and a modified road going Holden Commodore to assist the Kiwi in mastering the skills required to race Supercars.
Stanaway had a rookie year to forget last year at Tickford Racing and is determined to make the most of a second chance at GRM.
The New Zealander has proven his ability on the world stage, winning racing in GP2, GP3 and in GT racing, but has so far struggled to finesse his skills in a Supercar. 
"I think it has been useful from what I have learnt so far," Stanaway told Speedcafe.com.
"Obviously the biggest thing for me is trying dial my ability into the technique the Supercar requires. 
"Compared to all the guys I'm racing in the main series, I'm very far behind everyone in terms of Supercar experience and they have got that technique nailed down, and half of them probably have it without even thinking about because most of them don't have that broad range of experience that I have. 
"A lot of them have done Formula Ford and then just driven a Supercar for 10 years. I'm quite far behind in learning the technique I need and Paul (Morris) is pretty spot on with what I need to work on. 
"It is a long process. You can't figure it all out in a day but you have to start somewhere. 
"At some point this year I have to figure it out. Last year it was all about learning the circuits and trying to get some idea of what the car needs, this year is about how you become the best of the best.
"It is a tough championship so you have to figure out that technique and try and master it and that is what this year is all about. 
"It is about having a steady progression. This year will be a success if I can get to Newcastle and come away from there starting to get it nailed down."
Stanaway kicked off his second season in Supercars last weekend by recording a pair of 18th place finishes on debut for GRM at the Superloop Adelaide 500.
Adapting to a Holden Commodore following a season in a Ford Falcon has added to his challenge this year although the former single seater racer believes he is making progress.
"It is easy to look at the results and be disappointed that we are not up in the top five or whatever," he added.
"I try not to look too far up the road and just think about if I am better than what I was last year. 
"I feel I'm a lot more comfortable driving these cars than I was last year at Adelaide. 
"I really struggled there last year but I think I struggled half as much as I did last year."
Stanaway will complete his visit to Norwell Motorplex today but is expected to return later in the season.