New history of Dick Johnson Racing book in production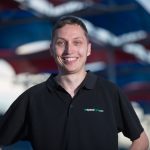 A new limited edition book celebrating 40 years of Dick Johnson Racing is being produced this year.
The book will feature all of DJR and DJR Team Penske's Ford race cars from the famous 'rock' Falcon XD of 1980 through to the Shell V-Power Racing Team Mustangs competing in this year's Supercars Championship.
There will be at least 46 individual cars covered within the 400-plus-page book including detailed history information, comments and recollections from former team drivers, and comprehensive statistics.
Previously unpublished photos covering the entire range of Falcons, Sierras and Mustangs raced by the team over the last four decades will also be a major highlight of the publication.
Officially licenced and endorsed by Dick Johnson and DJR, the book will be published by V8 Sleuth in association with Authentic Collectables, the official supplier of model cars and print memorabilia to DJR Team Penske.
"I've been involved with a few book projects over the years but until now there hasn't been one covering the history of each team car," said Dick Johnson.
"The blood, sweat and tears put into conceiving, constructing and racing all of these cars has been immense with so many people contributing to getting them onto the track for nearly 40 years.
"I've had a long association with Aaron Noonan from V8 Sleuth for many years, he's the best in the business with this stuff. 
"Wrapping up 40 years of cars into the one book is no easy task and that's why we'll be taking the majority of this year to carefully put this project together."