Reset for WAU after below par Adelaide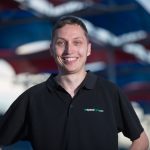 Walkinshaw Andretti United will undergo a reset and has identified the areas it needs to improve on after its results were 'not good enough' at the Superloop Adelaide 500.
The Melbourne squad fell well below its usual standard at the season opener, returning with a best result of 10th from the two 250km races.
In previous years the Adelaide Parklands Circuit has been one of its most successful, yielding podiums in all but four events in its 21-year history. 
The squad had headed into Adelaide bullish after a strong test day that saw both Mobil 1 Mega Racing Commodores inside the top 10 at Phillip Island.
It was unable to live up to that billing with James Courtney finishing 10th and 12th while team-mate Scott Pye salvage a 17th in Race 2 after retiring from the opener.  
Co-team principal Mathew Nilsson admitted the performance was a shock which has resulted in plenty of work being conducted to find a solution this week. 
"Results weren't what we were aiming to achieve and not good enough for the standard we want to set ourselves so there's plenty of work to do," Nilsson told Speedcafe.com.
"We were bullish after the test day for sure. Obviously (Adelaide) is a very different style of circuit, but we felt we started the season on the testing note quite well.
"I wouldn't say it knocks your confidence about. We've had to reset and review. 
"There's probably some mixed results up and down the pit lane with a few teams. We're one of them, and get our heads down, and recover as quickly as we can.
"We know what we need to work on so we'll keep focusing on that for sure."
This season teams have had to adapt to several changes on the cars, notably the ban on twin spring dampers. 
Nilsson says the move to linear springs was not among the squad's biggest factors over the weekend. 
"I wouldn't pinpoint that as being the big factor, no," he added.
"I think without doing them back to back, it's difficult to know, isn't it?
"It is a change in the set-up. The springs are one part of many factors of our set-up, so, for sure it's a new thing for us compared to previous years. 
"But, without pinpointing, without doing a back to back, difficult to really comment. 
"Clearly it's just one more aspect of the set-up that we did play around with and we'll continue to work with."
The squad is now preparing for next week's visit to Melbourne's Albert Park, the scene of its most recent victory when Pye claimed the spoils in Race 5 last year.