Reynolds surprised by lack of Adelaide pace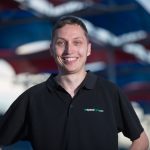 David Reynolds was surprised at the lack of race pace from his Penrite Racing Commodore at the Superloop Adelaide 500.
Tipped to be a championship contender, the Erebus Motorsport driver endured a relatively low profile start to the year in recording eighth and ninth place finishes in the two 250km races.
Reynolds displayed strong one lap pace to qualifying sixth and third in the two Armor All Shootouts but struggled to replicate the speed in the race.
His run in Sunday's race was further complicated following an opening lap clash with Cameron Waters that saw him forced off the road, losing several positions in the process. 
After leaving Adelaide with a couple of top 10 finishes, Reynolds believes the team will require a 'big think' before next weekend's round at the Australian Grand Prix.
"Obviously it was not the weekend we planned on having; we struggled for a bit of speed here and there and we improved the car during the weekend which is always positive thing," said Reynolds on social media.
"We just didn't have the pace we thought we would have at the start of the year. 
"We will have a big think about it as a team and myself and Anton will try to and come out and do a better job at the Grand Prix. 
"On a positive note we finished both races and there was not a lot of damage on my side of the garage. 
"Anton (De Pasquale) made a small mistake in qualifying which happens when you push pretty hard."
Meanwhile, team-mate Anton De Pasquale recovered from a crash in qualifying on Friday to finish 16th and 14th in the races.
Penrite Racing will head to Melbourne's Albert Park next week for the Beaurepaires 400, the second round of the season, from March 14-17.