Tickford move already vindicated for Milwaukee Racing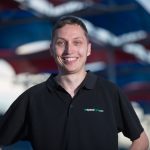 Milwaukee Racing boss Phil Munday believes the decision to join Tickford Racing has already been vindicated after leaving the Superloop Adelaide 500 with a best ever finish.
The first race weekend as a customer outfit saw the #23 entry emerge as the top Tickford runner with driver Will Davison fourth in the championship standings after a pair of top 10 finishes. 
Following a season where it operated as a single car privateer team last year, Munday made a big call to take his REC to Tickford's Campbellfield stable to take advantage of squad's huge resources. 
Boosted by the arrival of the impressive Ford Mustang, the decision has yielded immediate results on the track as Davison came home fourth in the oppressive heat of Race 1, before backing that up with an eighth in Race 2.    
Only double race winner Scott McLaughlin and the factory Holdens of Shane van Gisbergen and Jamie Whincup outscored Davison. 
"Yes (the decision has been vindicated), the boys have put in so much work and they have worked seven days a week for a four or five months," Munday told Speedcafe.com.
"It was pretty awesome. 
"It was our best finish ever and there has been a lot of work been put in by the boys as well to provide a fantastic car. 
"To spend the money to do this sort of thing is what it takes and you have got to have big kahunas to do it, but the rewards are pretty good.
"We were not far off a podium. Will was on SVG (in Race 1) and I thought we could snare a podium but maybe next time.
"Will is really happy and he is a great driver. It lifts all the spirits in the team and it makes all the work worthwhile."
Davison's run to the team's best ever result on Saturday was not without issue after complaining of double vision as drivers battled against temperatures in excess of 60 degrees in the cabin.
Sunday could have delivered an even stronger result had Davison been able to avoid stacking behind Cameron Waters, which led to him being caught up in a pit lane incident between Chaz Mostert and Rick Kelly, leaving the former broadside in the fast lane.
As a result, the 2016 Supercheap Auto Bathurst 1000 winner surged his way from 18th to eighth spot.
"We've laid a good foundation for the year now, leaving the weekend fourth in points, and now we can start setting our targets a little bit higher and getting a little bit more aggressive as we understand the car more," said Davison.
"We ran on quite an aggressive strategy, I probably didn't quite have the balance that I had in Race 1, but we're looking pretty good. 
"Obviously the double stack, and getting caught with Chaz's incident, we lost massive time in the pits, but we were able to salvage a result at the end. 
"That's the encouraging thing, to be able to race back through the field to eighth, it was really promising."
The squad will head to Melbourne's Albert Park for the second round of the championship from March 14-17.