T8 podiums due to Mustang runners 'treading on their feet'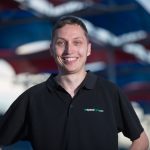 Triple Eight boss Roland Dane believes the team's podium results at Adelaide were down to Ford Mustang 'runners treading on their feet' such was the car's dominance on debut.
Question marks over parity between the blue oval's new weapon and the rest of the Supercars field emerged following an impressive debut showing from the Mustang.
Ford's new Supercar comfortably won both 250km races in the hands of Scott McLaughlin while all six Mustangs showed strong pace throughout the weekend.
In Triple Eight's Red Bull Holden Racing Team entries, Jamie Whincup finished second in Race 1 while Shane van Gisbergen was third in both races.
Dane told Speedcafe.com following Race 1 that the Mustang is 'not built to the same set of rules' as the other cars, while on Sunday he suggested to television crews that the Mustang has an 'unfair advantage'.
"It's obviously an effective car, we knew it would be, and we need to see what we've got to do to beat it," said Dane.
"First thing is we get an understanding of what the car's all about, et cetera – we've got a bit more of that now – and then we'll have to see what we can actually do ourselves to accomplish that. 
"I mean, to be honest the only reason that we've got the podiums, which I'm very happy with, and worked hard for, as hard as we've ever worked, is because some of the Mustangs were busy treading on their feet, in various ways, during the weekend.
"Sometime they're all going to get it right, and we'll have to see what that looks like.
"They seemed to get pretty concerned last year, so we'll have to see. I'm not going pass judgment yet, we'll look at all the data, see what's going on."
The dispute mirrors that of 12 months ago when Ford and Nissan teams raised parity concerns following a strong debut from the Holden ZB Commodore at the Adelaide 500, where it claimed five of the six podium places.
DJR Team Penske team principal Ryan Story has already rubbished parity talk claiming that the recent VCAT homologation provided the closest margin between the Ford Mustang, Holden Commodore and Nissan Altima Supercar models.   
However, Dane is predicting the second round of the championship at the expansive, aero dependent Albert Park circuit could again play to the strengths of the Mustang.
"Jamie won it last year, but yeah, we'll wait and see, I suspect it could play into their hands, but we'll wait and see," Dane added. 
The Beaurepaires Melbourne 400, which supports the Formula 1 Rolex Australian Grand Prix, is scheduled for March 14-17.