Coulthard 'deserves better' after unforced errors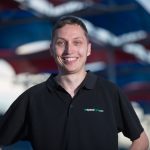 Shell V-Power Racing will ensure Fabian Coulthard receives better service in the pits after a couple of unforced errors damaged the driver's Superloop Adelaide 500 results.
Coulthard was dealt a double blow on Sunday that saw the #12 Ford Mustang excluded from the Armor All Top 10 Shootout when crew members worked on the car in pit lane, breaching parc ferme conditions.
Having been demoted from third to 10th on the grid, the New Zealander was required to make an extra pit stop after a mix up at his second stop on lap 27 when a miscommunication saw the crew fail to attach the fuel rig to the car.
As a result, he was forced to enter the lane on lap 40 and then lap 56 to reach the finish , after which he incurred a drive-through for tagging Garry Jacobson while buried in the field, and came home in a lowly 20th position.
Team-mate Scott McLaughlin, on the other hand, went onto claim his second win.
The issue masked confidence building front running pace from Coulthard, who claimed the Armor All Pole Position for Race 1 before a jump start penalty left him to salvage sixth at the chequered flag.
Team principal Ryan Story says his squad will endeavour to avoid a repeat of the mistakes.
"Over the course of the weekend we had two really fast race cars and we made a couple of unforced errors on Fabian's side and that really, really hurt him," said Story post race.
"We are bitterly disappointed for him. He certainly deserves better and we will ensure we will regroup and make sure we don't make any of those errors again."
Coulthard felt a podium finish would have been easily in reach had he avoided the issues. 
"I'm a little bit low," said Coulthard, who is stting 11th in the championship standings. 
"Obviously we had really good pace, and got the first pole for the Mustang which was really cool. Scotty then backed that up with two wins, so it's nice that our team got the first poles and the first race wins for Mustang. 
"We've spent a lot of time developing this car, starting from scratch in CAD to what you see on the track today and a successful race car. 
"For me, we were fast, but some things were out of my control and we probably should have been on the podium quite easily.
"But with what happened in the pits, it just wasn't our day. 
"On the upside, we're heading to the Grand Prix and we normally go well there. We've got a really good buggy, so I'm looking forward to it."
The championship heads to Melbourne's Albert Park for the second round from March 14-17.