Winterbottom praises 'guru' engineer after Adelaide comeback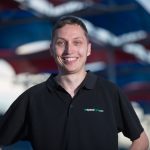 Mark Winterbottom has heaped praise on 'guru' engineer Phil Keed after completing an impressive comeback from the rear of the grid to sixth in Adelaide.
On debut for Irwin Racing, Winterbottom scythed his way through the field in Race 2 after a power steering issue in qualifying saw him fail to log a lap in the session.
While facing a mountain to climb in the race, the 2015 series champion wasn't concerned given Keed's confidence in making strategy calls to make the most of any situation.
The new combination of Winterbottom, a Triple Eight-built Commodore, and ex-DJR Team Penske and Brad Jones Racing engineer Keed, who has joined the new look Team 18, quickly gelled over the weekend.
Car #18 charged through the field and, in finishing sixth in the second leg of the Superloop Adelaide 500, edged Jamie Whincup in one of Triple Eight's own entries.
"Phil (Keed) is a guru," said Winterbottom, who had previously worked with Keed at Tickford Racing in 2009.
"There's no position that you're on the grid that he drops a lip or whatever.
"He's like 'Righto, strategy time, this is what we are doing,' and it's really cool.
"So it's just cool to keep working with him again. It's been a really good weekend and good recovery.
"Our aim was top 10 in the points, to come away with a straight car, we've done that. So we've hit that goal. It wasn't looking like it. But we've hit our goal which is good."
Winterbottom has revealed that much of his weekend was focussed on learning the unique way to extract the most out of the Holden having spent his entire Supercars career at the wheel of a Ford Falcon, including 13 years at Tickford Racing.
Adapting to the car meant for some late nights, mental stress and plenty of driver coaching led by Keed.
This process has been bolstered by information from Triple Eight via the squad's new a technical alliance with the operation.
"I feel like a first day which is exciting but I didn't leave it till 10:30 last night, and the last two hours were driving coaching," recounted Winterbottom.
"'Do this', 'Why are you doing this?' and a hundred questions and you're just getting coached again. In the race you can settle into a rhythm but quali and… it's a lot of mental stuff. It's hard work.
"They (the Holden and Ford) just drive completely different.
"After 13 years of what's been forced into you to drive a car in certain way, it is so flipped the other way for this car.
"I look at the data, I can see what they're (Triple Eight drivers) doing.
"I did it probably the Tickford driving style in quali which cost me, and in the race yesterday I drove the Triple Eight style and it's massively different.
"People think you can switch but when you are under the pump you revert back to your comfort and what you've done for 13 years.
"If you drive it that way then you have to set up the car that way and then you start losing the connection.
"Phil has in particular just been drumming it into me, even in the race, 'You're doing this wrong, you're doing this wrong,' and he's coaching it through."
Winterbottom's first weekend in a Holden has left him sixth in the standings after scoring a ninth in Race 1 on Saturday.