Hazelwood relieved with maiden top 10 after 'bruising' 2018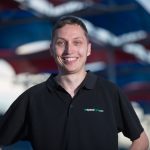 Todd Hazelwood has expressed his relief at scoring a maiden Supercars top 10 finish in his first event following a 'bruising' rookie campaign last year.
The Matt Stone racing driver provided one of the star performances at the Superloop Adelaide 500 in what was his first race since a confidence damaging 2018 left him bottom of the series standings.
Racing an ex-Jamie Whincup Commodore for the first time as part of a new alliance with the Triple Eight, Hazelwood earned a 'dream come true' first run in an Armor All Top 10 Shootout in front of his home crowd.
It resulted in a seventh place grid slot following Fabian Coulthard's exclusion.
Hazelwood performed strongly, racing with the leading pack in the race to finish a career best 10th at the chequered flag, which has provided a significant boost to the young driver's confidence.
"To be honest, we're pretty relieved, we've put a lot of work in the hard season and the off season and for it all to come together and pay off is the ultimate reward for the whole team at MSR," said Hazelwood. 
"Last year was pretty bruising for me but at the same time I learned a lot over the off season, and I had a good time to reflect on what I needed to work on. 
"I feel that this weekend, everything that I've put into place is starting to come off.
"We had a great test day at Phillip Island and we come out of the day feeling pretty refreshed and it was just awesome to be working with something that's making sense for us and the changes and moving forward. 
"It's pretty cool (to race the top guys), and obviously I had Whincup in my tail in the whole of that first stint and a lot of fast cars in front of me too, so it's refreshing to be racing against those guys who race hard but fair. 
"It was a pretty surreal moment but also I think it really got the most out of me as well because it was a tough weekend physically and mentally, so when you're racing those sort of guys at the point in that's what really gets the most out of you."
The result has also vindicated MSR's decision to move to Holden midway through 2018 and strike a partnership with Triple Eight according the 23-year-old.
"I think the best thing about the Triple Eight alliance is that we work together as one big team, and the way the whole program's set up makes it really efficient." he added.
"It's beneficial for us, for a team like us, where obviously I don't have a team-mate, I've only got two engineers, so being able to have access to two of the best guys in the business, and arguably the best team in the pit lane is really helpful."
Hazelwood is lying 13th in the championship standings after finishing 12th in Saturday's race.