Dane unwilling to rush to judgement on Mustang parity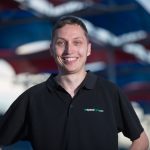 Red Bull Holden Racing Team boss Roland Dane is hesitant about making a judgement on parity after the Ford Mustang Supercar's strong debut at the Superloop Adelaide 500.
Scott McLaughlin scored a dominant, 13-second victory in the first race of the new season in his #17 Shell V-Power Racing Mustang after he provisionally qualified on pole.
Team-mate Fabian Coulthard actually took pole in the Armor All Top 10 Shootout but finished Race 1 in sixth position largely as a result of a hold penalty for a false start.
Notably, Coulthard finished within 10 seconds of runner-up Jamie Whincup, who also shared the podium with RBHRT team-mate Shane van Gisbergen.
Dane admitted that Triple Eight's performance was not optimal, but also tentatively suggested that there might be a disparity between the Mustang and the ZB Commodore, claiming the former is built to different regulations. 
"We haven't quite got the performance so we'll see what (Sunday) brings," he told Speedcafe.com.
"We'll see whether it's just tuning or whether there's more to it.
"The trouble is, it's (the Mustang) not built to the same set of rules as us, so we'll have to see whether that ultimately makes a difference or not.
"Probably one race isn't enough to tell that but we'll try and get some direction.
"I mean, there are some technical issues anyway but, like I said, it's just whether they make a difference or not.
"I don't want to do what they did last year and get in public and slagging, so we'll wait and see."
There were also Mustangs in fourth and fifth, namely those of Will Davison and Chaz Mostert, the former of whom helped 23Red Racing to its best race result in its short history.
Of the other two Tickford-run Mustangs, Cameron Waters was effectively sixth when ordered into the pits due to a cool suit issue and Lee Holdsworth effectively either inside or just outside the top 10 when he slid into the wall at Turn 7 and was hit by Scott Pye.
"I think if one car does a good job, it's one thing; if you have all six cars, then that's another thing," observed Dane.
"So we need to wait and see."
This time last year, Ford and Nissan teams raised questions over parity following the highly successful debut of the Holden ZB Commodore which swept to a one-two finish out of the box. 
DJR Team Penske managing director Ryan Story has dismissed suggestions of an imbalance between the Mustang and its Commodore and Altima counterparts by reiterating that the recent VCAT homologation process provided the closest margin between the models.
Story also labelled Dane's comments about the Mustang being built to different rules as shortsighted.
"As I mentioned, the numbers from the VCAT were the closest that we've ever seen, and I think that's a testament to the processes," Story told Speedcafe.com. 
"It's a unique process but so far it's been working for us, and the reality too is that we've changed the balance of the car, and we've done that based on what we thought were deficiencies (compared) with the ZB. 
"When the ZB came out, it was clearly a better car than what we were racing with the Falcon, and we made noises at Adelaide here last year to try and ensure we could redress the imbalance by being given the same provisions with things like composite panels that the Commodore had. 
"The ZB was built to different regulations and what we've sought to do, in conjunction with Supercars, is build a car that's at that same level, that's what we've aimed to do, and there's a whole series of process and procedure that you go through when you homologate one of these cars. 
"We had a totally transparent process with Supercars right throughout, meeting with them as regularly as once a fortnight, sending through drawings for approval. 
"We got more stuff knocked back than we got approved, and that's just the nature of the program, so I think comments like that are a little shortsighted, but I think that fundamentally speaking there's still a long way to go to have a really good understanding of what the field looks like."
The Supercars field will return to the track for Armor All Qualifying for Race 2 at 1030 local time/1100 AEST.