Waters questions Supercars call to pit after cool suit drama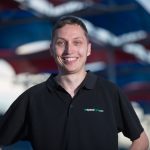 Cameron Waters feels the onus should be on the driver to assess if health risks due to extreme heat after being forced to curtail his race early in Adelaide due to a cool suit failure.
The Monster Energy Ford driver's cool suit froze early in Race 1 at the Superloop Adelaide 500, which resulted in Supercars calling Waters into the pits to fix the issue, before he could return to the action. 
Extreme conditions that have seen temperatures exceed 40 degrees have triggered Supercars' driver welfare policy with the series taking every precaution to protect drivers from the heat.
Waters was effectively sixth when he was forced to pit.
The Tickford driver was left angered by the decision after claiming he felt capable of coping without a functioning cool suit.
Waters' team-mates Will Davison and Chaz Mostert finished fourth and fifth while Lee Holdsworth came home 21st after being delayed when he hit the Turn 7 barrier. 
"I 100 percent understand why (the rule) is applied but if I was getting ridiculous or unsafe I would have pitted," said Waters.
"It (the decision) needs to be put in my hands because at the end of the day I was feeling fine. 
"You never know at the next pit stop we could have put the window out and that probably would have been all I needed maybe. 
"I'd like a change (to the regulation) but I doubt anything will happen."
Waters did eventually rejoin the race 14 laps down before going on to finish in 22nd position.
The driver did however admit to feeling the effects of the heat revealing that he had burns to his foot that forced him to left foot throttle at times to prevent further damage.
"My right foot is pretty bad with a burn on the outside edge but it is what it is," he added.
"I was trying to get it up to a cool spot in the cabin up near the windscreen which did help a bit to be honest. I will be all right. 
"I came out the corner using my right foot and I switch really quickly and put my foot up. 
"I tried some inserts but they didn't really work."
Temperatures are expected to drop to the low 30s for tomorrow's final leg of the Adelaide 500.