Pye slams Turn 7 barrier change after Race 1 incident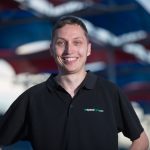 Scott Pye has labelled a decision not to make changes to the Turn 7 barrier as 'bullshit' after his race was ruined by an incident at the corner during the Supercars season opener.
The Walkinshaw Andretti United driver found the new tyre wall on lap 26 after being unable to avoid a stricken Lee Holdsworth, who was broadside in the road having hit the barrier moments before he arrived.
Officials moved the tyre wall to the edge of the exit kerb at Turn 7 for this weekend's Adelaide 500 in a bid to prevent drivers from exceeding limits.
Ironically Holdsworth was among several drivers who predicted the change would spark chaos in racing conditions due the reduced run off.
The barrier was investigated following Thursday's action with only minor tweaks made to improve its external durability.
Pye was forced to return to the pits with damage to the front of his car. 
"There wasn't one driver that didn't complain about that tyre wall in the lead up," Pye told Fox Sports.
"It's just bullshit that it never got fixed. We wanted it removed. 
"I think the wrong wall was put in place and they had to cover it with three layers of belt. 
"I didn't see yellow (flag) or anything, came around the corner blindsided and Holdsworth was right there. 
"I think it was lucky enough that JC (James Courtney) probably could have been able to see me maybe – maybe he could see me, just makes it through. 
"But it's ridiculous. There wasn't one driver that didn't want that removed.
"The wall was a good decision for track limits and everything but super frustrating because we knew that was going to happen."
To add insult to injury Pye will face a post-race stewards investigation over failing to observe yellow flags prior to the impact.