Jones 'lucky' after biggest ever crash, car repair underway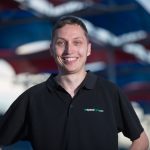 Supercars rookie Macauley Jones says he was lucky to escape the biggest impact of his racing career following a heavy shunt in Practice 4 at the Adelaide 500.
The driver of the #21 Team Cooldrive entry suffered a front right brake failure on the run to Turn 9 which pitched him into a spin resulting in the car backing into the tyre wall.
Jones, who had no warning of the impending brake issue, was able to climb from the wreckage and has since been cleared by medical teams at the circuit.
"(I'm) a little bit shaken up. It was obviously a massive accident; the biggest one I've ever had," said Jones.
"I'm feeling okay luckily at the moment.
"It definitely felt like the biggest impact I've had for sure, yeah. It was lucky it was a tyre wall and not a concrete wall.
"It's never a good thing to lose brakes especially at the end of a straight like that. 
"I had no issues, that was first flying lap on the last outing and it was all going well until that point and I hit the brake pedal. 
"It seemed like it was all there at the start and then started to fade away as soon as I sort of did peak pressure and I was a passenger from there.
"A lot of damage so hopefully we can see it back on the track this weekend.
 "It's not the way we wanted to start the rookie season that's for sure. Hopefully we can get it repaired and hopefully be out there tomorrow."
Brad Jones Racing is currently assessing the ZB Commodore which has suffered extensive damage to the rear.
The squad believes it has all the parts to repair the car and is aiming to return to the track for this evening's opening leg of the Adelaide 500.    
"It's obviously fairly extensive in the rear. At the moment we're stripping it as far back as we can," said engineer Andrew Edwards.
"There is some kinks in the tubes which we need to cut and fix before we can go back out. 
"We're concerned about the gearbox position moving with such a big impact. 
"At the moment we've got everyone on it that we can. 
"We're going to have a crack at fixing it. I think we have a pretty good track record of making it out, but it is pretty extensive. 
"Luckily the timing for the race session is pretty good today so we'll have a shot.
"(Making the race) that's our target, and that's all we can do is push as hard as we can now like we're going to get it. 
"Then as we get closer we'll assess it; go as hard as we can and then work backwards from there."
Jones has qualified 17th for today's 78 lap race which is scheduled to start at 1650 ACDT.
Macauley Jones has walked away from this massive crash in Practice at the #SuperloopADL500.#VASC pic.twitter.com/uvNfXuYSEG

— Supercars (@supercars) March 2, 2019