Coulthard regaining confidence after being 'derailed' in 2018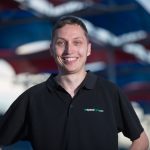 Fabian Coulthard is regaining the confidence which took a hit during a difficult 2018 campaign following a strong start to life at the wheel of the Ford Mustang in Adelaide.
The Shell V-Power Racing driver has quickly come to terms with the blue oval's latest weapon by finishing inside the top five in every session so far at the season opener.
Coulthard will feature in today's Armor All Top 10 Shootout having qualified third in Friday's qualifying session just 0.06s adrift of team-mate and provisional pole sitter Scott McLaughlin.
The New Zealander's return to form arrives following a confidence damaging 2018 that saw the 36-year-old struggle to gel with a new engineer Mark Fenning and a low aero set-up on the ageing Falcon FGX.
As a result, he was forced to play wingman for McLaughlin in the title race.
Coulthard had predicted that the Mustang's design would suit his style and so far he has been proved right.
However, more importantly it has restored his belief and enjoyment in going racing.
"I can work with this (car)," Coulthard told Speedcafe.com.
"Every session we have popped up in there. It is good for my confidence, I took a little bit of a hit last year. 
"Obviously you believe in yourself; for the train to be derailed it takes a little bit to get your confidence back. The last couple of days here has got me back. 
"I've got a spring back in my step and I'm enjoying it. It is fun going racing, it is all good.
"You are your own worst critic.
"You want to succeed more than anybody and not through not trying. 
"We gave it our best shot last year and that was the best I could do. 
"People forget I worked with Phill Keed (Coulthard's former engineer) for six years; me and Mark (Fenning) are still learning each other through last year. 
"We were not able to show our true colours when we started to get on top of it because our focus had changed on helping the #17 to the championship. 
"On paper it looked average but we were doing all the right things to help the other side of the garage.
"People who sit behind their keyboards don't necessarily know the ins and outs of racing; social media has probably given people a voice when they shouldn't have a voice and we are the ones that cop it."
Team-mate McLaughlin has admitted that Coulthard's pace and presence at the top of the timesheets has seen the reigning champion lift his own performance which has in turn had an effect on the whole team. 
"When he's up there, I constantly lift and the whole team lifts," McLaughlin told Speedcafe.com.
"Obviously the FGX probably didn't suit them that much, so the new Mustang I think is a lot better.
"I'm pleased for him and pleased for the team and we're just pushing each other and just going from strength to strength."
Switching focus to today's race, Coulthard is not getting ahead of himself following a strong start to the weekend.   
"I'm looking forward to it," Coulthard added.
"We have been on pole in the shootout before here with this team actually, so I'm excited. 
"It is nice to be in a competitive car but it is only early days in the season, we are not getting ahead of ourselves."
With temperatures set to again exceed 40 degrees at the track, the Kiwi says he is prepared for the punishing heat.
"We are trying our best to be as best prepared as we can for the heat," he commented.
"We have known the forecast for a while and it is going to be tough so the planning has happened a lot before we got here.
"No matter what you do it is going to be tough.     
"This is probably going to be the toughest race we have ever had to deal with."      
Supercars will return to track with Practice 4 (1040) ahead of the Armor All Top 10 Shootout (1405) and Race 1 (78 laps) at 1650 local time.