McLaughlin takes provisional pole from Whincup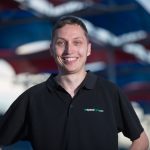 Scott McLaughlin has claimed provisional Armor All Pole for the opening race of the Supercars season after edging Jamie Whincup in a hard fought session at the Superloop Adelaide 500.
The reigning Supercars champion surged to the top of the times just short of the halfway mark in the 20 minute twilight session, with the lap good enough to remain on top at the chequered flag.
McLaughlin posted a 1:19.58s which eclipsed that of his Ford Mustang team-mate Fabian Coulthard who held sway once the session continued after an early red flag caused by Anton De Pasquale.
"I think everyone at Ford Performance, all the Ford teams as well, it's been fantastic," said McLaughlin, who parked up with time to spare. 
"The Shell V-Power car was great for me and Fabian. Everything feels pretty good. 
"Obviously I just need to tune up a couple of little areas, but looking forward to the shootout tomorrow. Two in the shootout is always good."
A flurry of fast times in the final minutes saw a shake up in the order with Whincup pulling out a last ditch effort to rise from 10th to second.
Whincup was only 0.05s adrift of McLaughlin while Coulthard (Shell V-Power Racing) was third at 0.0o15s further back ahead of tomorrow 's Armor All Top 10 Shootout which will finalise the grid.  
Brad Jones Racing's Nick Percat was among those to improve late on to secure fourth ahead of Cameron Waters (Tickford Racing) and team-mate Will Davison as four Mustangs made the top 10.  
Shane van Gisbergen ended up seventh with the top 10 completed by Kelly Racing's Rick Kelly, David Reynolds (Penrite Racing) and Mobil 1 Mega Racing's James Courtney.
"It's friggin' hot in the cars man, it's tough, at least we're getting somewhere," said van Gisbergen. 
"We're getting better and better. We were on for a decent lap there, front four I think, then (I) got held up by the Datsun and I think Chaz (Mostert) was playing around as well. 
"That was a shame but we've got another session in the morning to tune it up and we're in the shootout and that's what matters."
Tim Slade fell just shy of securing a spot in the tomorrow's shootout in 11th ahead of Mostert, while Mark Winterbottom will start his first race for Holden in 16th spot. 
Macauley Jones was the best of the rookies in 17th while Garry Jacobson ended up in 20th position.
The session was halted after only four minutes when Thursday pace-setter de Pasquale clipped the inside wall at Turn 8 which saw the #99 Commodore slam into the outside wall at speed.
De Pasquale would take no further part in qualifying which left team boss Barry Ryan frustrated with his young driver, who was yet to fit green tyres. 
"No driver intentionally crashes but it's pretty frustrating for the team to see that happen. He's going to feel it for a bit and hope he's here all night helping us fix it," said Ryan.
Supercars will return to the track tomorrow with Practice 4 (1040) ahead of the Armor All Top 10 Shootout (1405) and Race 1 (78 laps) at 1650 local time.
Results: Armor All Qualifying for Race 1
| | | | | | | |
| --- | --- | --- | --- | --- | --- | --- |
| Pos | Num | Team/Sponsor | Driver | Car | Fastest lap | Split |
| 1 | 17 | Shell V-Power Racing Team | Scott McLaughlin | Ford Mustang GT | 1:19.5983 | |
| 2 | 88 | Red Bull Holden Racing Team | Jamie Whincup | Holden Commodore ZB | 1:19.6483 | 0:00.0500 |
| 3 | 12 | Shell V-Power Racing Team | Fabian Coulthard | Ford Mustang GT | 1:19.6663 | 0:00.0680 |
| 4 | 8 | Team National Pharmacies | Nick Percat | Holden Commodore ZB | 1:19.6678 | 0:00.0695 |
| 5 | 6 | Monster Energy Racing Team | Cameron Waters | Ford Mustang GT | 1:19.7432 | 0:00.1449 |
| 6 | 23 | Milwaukee Racing | Will Davison | Ford Mustang GT | 1:19.7618 | 0:00.1635 |
| 7 | 97 | Red Bull Holden Racing Team | Shane van Gisbergen | Holden Commodore ZB | 1:19.8946 | 0:00.2963 |
| 8 | 15 | Castrol Racing | Rick Kelly | Nissan Altima | 1:19.9029 | 0:00.3046 |
| 9 | 9 | Penrite Racing | David Reynolds | Holden Commodore ZB | 1:20.0107 | 0:00.4124 |
| 10 | 22 | Mobil 1 MEGA Racing | James Courtney | Holden Commodore ZB | 1:20.0566 | 0:00.4583 |
| 11 | 14 | Freightliner Racing | Tim Slade | Holden Commodore ZB | 1:20.0644 | 0:00.4661 |
| 12 | 55 | Supercheap Auto Racing | Chaz Mostert | Ford Mustang GT | 1:20.0829 | 0:00.4846 |
| 13 | 7 | Plus Fitness Racing | Andre Heimgartner | Nissan Altima | 1:20.1532 | 0:00.5549 |
| 14 | 5 | The Bottle-O Racing Team | Lee Holdsworth | Ford Mustang GT | 1:20.2092 | 0:00.6109 |
| 15 | 2 | Mobil 1 MEGA Racing | Scott Pye | Holden Commodore ZB | 1:20.2864 | 0:00.6881 |
| 16 | 18 | Irwin Racing | Mark Winterbottom | Holden Commodore ZB | 1:20.3581 | 0:00.7598 |
| 17 | 21 | Team CoolDrive | Macauley Jones | Holden Commodore ZB | 1:20.3643 | 0:00.7660 |
| 18 | 33 | Boost Mobile Racing | Richie Stanaway | Holden Commodore ZB | 1:20.4014 | 0:00.8031 |
| 19 | 34 | Boost Mobile Racing | James Golding | Holden Commodore ZB | 1:20.4663 | 0:00.8680 |
| 20 | 3 | RABBLE.club Racing | Garry Jacobson | Nissan Altima | 1:20.4927 | 0:00.8944 |
| 21 | 35 | Unit Racing | Todd Hazelwood | Holden Commodore ZB | 1:20.6134 | 0:01.0151 |
| 22 | 78 | Team Harvey Norman | Simona De Silvestro | Nissan Altima | 1:20.7216 | 0:01.1233 |
| 23 | 19 | Team TEKNO | Jack Le Brocq | Holden Commodore ZB | 1:20.9141 | 0:01.3158 |
| 24 | 99 | Penrite Racing | Anton De Pasquale | Holden Commodore ZB | | |