Turn 7 barrier to undergo minor overnight changes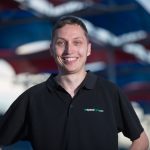 Officials will make minor tweaks to the Turn 7 barrier at the Adelaide Parklands Circuit overnight to improve durability following an inspection by CAMS.
The section of track is among several changes for this year's Superloop Adelaide 500 with the tyre barrier moved to the edge of the exit kerb in a bid to prevent competitors exceeding track limits. 
Supercars drivers have raised concerns following the decision with Lee Holdsworth predicting that the new conditions at Turn 7 will cause chaos in races.
The changes have dramatically reduced the run off at the turn as drivers previously used to run over the kerbs, and subsequently caught out James Golding, who prompted a red flag of opening practice.
CAMS carried out an investigation with a senior Supercars driver following this evening's practice session which determined that the barrier does not require any movement.
It will however be made more durable and have an extra layer fitted to the conveyor belt in front of the tyre wall.
Supercars action will continue tomorrow with Practice 2 scheduled for 1140 local time.