Supercars taking every precaution for extreme Adelaide heat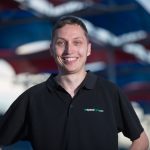 Supercars is taking every precaution to ensure drivers and teams are prepared to cope with potentially record breaking temperatures at the Superloop Adelaide 500.
This week temperatures are expected to reach the 40-degree mark on Friday and Saturday before a drop into the low 30s for Sunday's finale.
It leaves competitors facing energy sapping and potentially dangerous cabin conditions as they do battle on the challenging Adelaide Parklands Circuit.
The forecast heat will trigger the championship's Driver Health and Welfare Policy which enforces the use of a driver cooling system, ie cool suit and helmet fan, if temperatures exceed 32.9C.
While the conditions are expected for this time of year, Supercars is leaving no stone uncovered in providing education and assistance for drivers as they prepare to tackle the heat throughout the weekend.  
Coolsuit temperatures are recorded by Supercars to ensure devices are working properly, while medical delegate Dr Carl Le will closely monitor all drivers.
Equipped with access to the pit to car radio communications, he has the ability to step in to call a driver into the pits if a driver is at a serious health risk, but the onus is predominantly on the team to make the decision.
Dr Le briefed drivers on how best to stay cool in the conditions on Wednesday night.
"We plan for the worst and expect the best," Le told Speedcafe.com.
"Making drivers aware (is key).
"The heat in the car is quite extreme anyway, but the concern in Adelaide is that it's a street circuit, it's a stagnant heat, and particularly if there are prolonged Safety Car periods there isn't much air exchange. 
"The drivers and I will be talking to the rookie drivers as well I'll be addressing the rookie drivers as well but they need to look at their cooling.
"Before they hop into the car, they need to cool themselves down, and that involves drinking slushies, sitting in cold rooms or even food storage freezers and such, just to really cool their body down. 
"It does have a lingering effect and will help their endurance, and then during the events it's obviously important to have a working, active coolsuit.
"Supercars monitors the outlet hose temperature of the coolsuit from the dry ice box to be able to measure whether it's working or not – and then, secondly, the driver needs to keep really well hydrated; have a functioning hydration system.
"We know that if you get dehydrated then the effects of heat exposure are much more rapid.
"I can certainly step in but the onus is primarily on the driver and the team. 
"At the end of the day, it's a competitive sport, we don't want to call anyone in unless we absolutely need to, and logically, if a car's going, for example, a second slower than what they're expecting to do then there's clearly a problem."
In the event of an incident, an ambulance will be on standby in addition to roving medical teams that have access to refrigerated saline drips should anyone require medical attention.
"There's a very comprehensive medical service in Adelaide, so they have doctors and staff nurses from the Royal Adelaide Hospital, high-level specialists as well as multiple ambulance crews from the South Australian Ambulance Service who are very well-trained in dealing with the extreme heat conditions," added Le.
"Recently they had the Tour Down Under there, which had extreme heat conditions as well, so they'd be proactive in their planning, both for competitors, teams, and workers onsite, as well as just spectators coming to the circuit. 
"For the races themselves, we have ambulances on standby, we have measures such as saline that's refrigerated and roving medical teams and pit lane medical teams. They have three pit lane medical teams in Adelaide to be able to quickly attend to drivers if we are suspecting any heat problems."
Drivers are fully aware of the impending conditions with seven-time champion Jamie Whincup describing the weekend as 'survival of the fittest'.
"With 40 degree ambient you can generally add 25 degrees to that so it is going to be 65 degrees inside the car for over two hours. It is going to be survival of the fittest," said Whincup.
Will Davison says a working cool suit will be the difference between reaching the race finish or requiring an ambulance.
"It's not something we can joke around, or mess around with," Davison told Speedcafe.com.
"I think we need to take extra precaution with every detail of the car cooling. And then, also, in our preparation from now through this Saturday.
"It only literally makes a difference between needing an ambulance, and then nearly needing an ambulance. That's the extreme way of putting it.
"Without it, in these conditions, there's no physical way you could probably get through the race. It'd be just, it'd be impossible." 
Supercars will hit the track for first time at 1730 local time/1800 AEDT.