McLaughlin reveals title decider panic in new book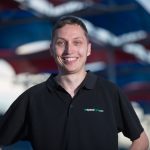 Scott McLaughlin has revealed how he quashed a panic attack on the eve of the Supercars title decider last year in his new book that charts his championship season.
The book titled Scott McLaughlin: Road to Redemption, written by Tim Hodges on sale at the this weekend's Superloop Adelaide 500, has lifted the lid on the Shell V-Power Racing driver's panic stricken inner thoughts in the lead up to the Newcastle 500 finale.
Having experienced the heartache of losing the 2017 title twelve months previously, McLaughlin headed into the showdown with a 53 point lead after rival Shane van Gisbergen was stripped of his win in the penultimate race.
McLaughlin recalls the battle with nerves he faced on the night before the title showdown and how sports psychologist Emma Murray helped him through.
Extract from Scott McLaughlin: Road to Redemption
The Saturday victory the next morning became mine, and a championship lead grew from two points to 53 points.
It was a nice buffer, but it ramped up the pressure. I just had to beat Shane today – I didn't want to win the title by default courtesy of a bloody stewards' hearing.
Sunday was frantic, so many people were wishing me well. Those same people who pitied me last year at the gala awards, you could sense were now willing me to win. It was nice and crazy but also intimidating and full on.
People meant well but it was overwhelming. It took a toll. I was feeling sick, I was freaking out, I remember I started breathing really fast, and thought I was having a panic attack. I had to ring Emma.
I was putting way too much pressure and expectation on myself. I think it was just too long out of the car with people all over me.
Once I'm in the car I'm fine, I'm at ease. I knew my car was in a happy spot, but now I was f**king freaking out.
Emma is so good at times like these – she just asks simple questions. 'Does this happen to everyone?' 'Will Shane be feeling the same way?'
'Will this affect you in the car?' She makes you calm and puts a really nice spin on it. I hate to think how bonkers she must have thought I was!
All we had to do was finish sixth to be the champion. But I was focused on not driving to finish sixth. We had to execute a perfect race.
Last year we'd taken our eye off the race towards the spoils; we looked at the goal before completing the task.
Jack Riewoldt had called me Saturday night and told me a story about the Tigers in the 2017 Grand Final at half-time.
They spoke about climbing Mount Everest and nearing the peak, and he said, 'Don't look at the top, always look at your feet. If you don't look at your feet you'll miss a step and fall off and won't make the last 100 metres up the hill.'
It made so much sense. My main objective was not to look at what might happen after the race – it was just to run the best possible race we could and see where we ended up at 6pm.
McLaughlin will begin the defence of his Supercars title this weekend in Adelaide. 
CLICK HERE to order a copy of the book.