Johnson: Current Supercars drivers have it 'pretty easy'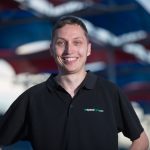 Australian touring legend Dick Johnson was surprised by the ease in which he slotted into a Ford Mustang Supercar during a special demonstration run at Adelaide.
The five-time ATCC champion was offered the opportunity to sample a current specification Supercar on the Adelaide Parklands circuit as part of a celebration of Ford's return to Australian motorsport.   
Johnson has only made fleeting returns to the cockpit since retiring from the sport in 1999.
However, the 73-year-old was impressed how simple it was to drive the Mustang compared to the touring cars he raced in period. 
Johnson shared the track with reigning Supercars champion Scott McLaughlin, piloting a road going Mustang and Marcos Ambrose, who drove a Mustang NASCAR.
"These boys don't know how lucky they are," said Johnson following the demonstration run.
"They've got it pretty easy to be quite honest with you. 
"The way the car feels and handles, obviously it's pretty hard to get a real gauge in a couple of laps but boy oh boy, they've got plenty of grunt and a lot more than we ever had and certainly they stop extremely well. 
"As far as kerbs and that, there's no such thing. When you run over a kerb it's just running it over a pebble."
Johnson has harboured a wish to sample a latest specification Supercar with the experience proving enjoyable despite the contrast to the cars he competed in throughout his career.
The three-time Supercheap Auto Bathurst 1000 winner revealed that he had been mentally practising for his demo run today.    
"Well I have, it might seem a surprise, but I really have been looking forward to it," Johnson added.
"And even at night time doing laps in my head would you believe around Adelaide raceway to know what gear I was in and where and so on and so forth. 
"I don't profess to understand all the crap they've got on the dash mate; oil pressure gauge, and a temperature gauge and a tacho, that's all I needed but now they've got all this fancy stuff.
"At least my eyesight's not that bad I couldn't see the flags like some other drivers," he joked.
Johnson will jump back behind the wheel of the Mustang Supercar for two further demos on Friday and Saturday.