Ambrose: No desire for comeback after NASCAR demo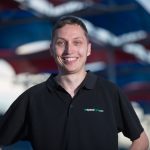 Marcos Ambrose has no desire to make a racing return following a special one-off demonstration in a 2019 specification NASCAR at the Superloop Adelaide 500. 
The two-time Supercars champion made a rare appearance back on track after stepping away from competitive motorsport in 2015.
Since then former NASCAR Cup racer Ambrose has steered clear of the racing scene but the opportunity to celebrate Ford's return to Australian motorsport with the Mustang was enough to prise him back on the track.
Ambrose was joined on the Adelaide Parklands Circuit by reigning Supercars champion Scott McLaughlin in a road going Ford Mustang while Australian touring car legend Dick Johnson took the wheel of the Mustang Supercar.
Since stepping back from motorsport after his decision to quit DJR Team Penske in 2015, the Tasmanian has focussed on other business activities that include running a wilderness retreat in his home state. 
He has however remained interested in motorsport and has a keen interest in racing online via a simulator.  
"I'm here to celebrate Mustang, Dick (Johnson), Penske, and Scott (McLaughlin)," said Ambrose when asked if the run would tempt him into a comeback. 
"I mean Scott's finally winning this championship, just to be part of this launch, relaunch, of Ford's commitment in Australia and racing in general, it was just an opportunity I wanted to be a part of. 
"I needed to think about it for a day and I just thought yep, I want to be here in Adelaide, I want to celebrate the Mustang, celebrate Dick Johnson Racing, and Team Penske and everyone involved. 
"It's just a lot of fun to just be in the family and that's why I'm here."
Ambrose did however enjoy the opportunity to get back behind the wheel.
"It's great. It's probably been four, five years I think since I've driven anything," added Ambrose. 
"I'm sure I've done a bit of practice in a go kart or something before I came out here. 
"But just great, feel really natural. Just a lot of fun – I knew Dick was the car in front, I could see him and I could see how well he was doing, so I enjoyed that as much as anything, just being out there with Dick in the V8 and my just jumping around in the NASCAR. 
"(It) Felt really good. Joey Logano's seat so it was a little slimline for me but it was comfortable enough.
"Jumping into the NASCAR just felt right at home to be honest. Jumping in the left side to me felt right. Driving it on this track felt all wrong. 
"This car is not a nice car to drive around the streets of Adelaide in the sense that it's a tank; very, very, very bumpy ride out there. 
"We only did a couple laps in it so I'm looking forward to tomorrow and see if I can just drive it a bit harder."  
Ambrose will return to the track for two further demonstration runs on Friday and Saturday.