Heimgartner Kelly Racing warpaint revealed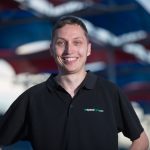 Kelly Racing has displayed the livery Andre Heimgartner will run during the 2019 Virgin Australia Supercars Championship.
The New Zealander's #7 Nissan Altima is once again backed by Plus Fitness which has resulted in an updated version of the striking blue, orange and white colours.
Heimgartner, who has retained by the team for a second consecutive year, ran under a special Kelly Racing black and red livery at the recent Phillip Island pre-season test which he finished 15th fastest.
"I'm very excited for the 2019 season, and I can't wait to hit the track in the new-look Plus Fitness Nissan," said Heimgartner.
"Kelly Racing and I have developed a very good relationship with Plus Fitness, 360 Degree Marketing Group and our other supporters, and our aim is to reward them with some really strong results.
"This is one of the best looking cars I've ever raced, but we all know that the best looking race cars are fast ones, and that is where our focus is at.
"Adelaide is such a special race track. It has all its Formula 1 history, and has a very rich Supercars past too. It's one of those races that everyone wants to win, and being the start of the new season, a good result here can kick start your year."
Heimgartner will kick off his second campaign at Kelly Racing at this weekend's Superloop Adelaide 500.
Last year the Kiwi finished the pair of races in 17th and 25th respectively. 
Meanwhile, Garry Rogers Motorsport is the final team to reveal its 2019 colours with a launch in Adelaide later today.