POLL: Will the Mustang Supercar win on debut?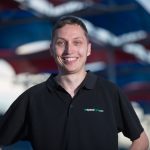 It has been several months in the making but this weekend will see the highly anticipated race debut for the Ford Mustang Supercar at the Superloop Adelaide 500.
The return of the famous Mustang nameplate to Australian touring car racing scene has created plenty of interest and hype ahead of the 2019 campaign, with Ford fans hoping the car will prove to be a force on track.
Following confirmation of the project last April, work has been carried out both in the US and Australia to bring the Mustang Supercar to life.
Ford Performance in Detroit has deployed its experienced staff alongside Ford Supercars squads DJR Team Penske and Tickford Racing to deliver the car.
Shell V-Power Racing managing director Ryan Story hailed the level of expertise involved in the Mustang development as 'unsurpassed and unmatched in Supercars' while reigning champion Scott McLaughlin has already described the car as a 'weapon'.
Anticipation is building following a successful run out at the recent pre-season at Phillip Island that saw all six examples end up inside the top 10, albeit after late green tyre runs.
While the early signs seem ominous for the rest of the Supercars paddock, Story has realistic expectations for the car's debut on the Adelaide streets.
"We have realistic expectations heading into Adelaide," said Story at the team's season launch.
"It's going to take a bit of time for us to understand the car and get the most out of it, but our expectations are no different to last year, we are going out to win races.
"We know that we're up against some pretty strong and pretty extraordinary competition, but we have to continue to work hard and raise the bar and continue to find success.
"That's what it's all about for us.
"I'd certainly never rule it (a win) out, but I think we have to be realistic in terms of where we are and what we're up against.
"We're not setting lofty ambitions out of the box for ourselves, but certainly on balance for the year we hope to be winning and be successful."
Recent history suggests that new cars have been successful from the off with last year's impressive debut from the Holden ZB Commodore fresh in the memory.
The latest Commodore swept to five of the six podium places at Adelaide before going on to win seven of the first eight races.
What do you think? Will the Mustang win on debut?
Cast your vote below in this week's Pirtek Poll.