Ingall's Supercars 2019 season preview – Part 2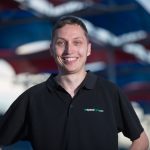 Former Supercars champion Russell Ingall casts his predictions ahead of the 2019 Virgin Australia Supercars Championship Adelaide 500 season opener.
After a busy silly season of movements, the 24-car field is now set to kick off a 15-round battle for Australian motorsport's most coveted championship crown.
Supercars heads to the Adelaide streets with raised levels of anticipation created by the race debut of the Ford Mustang and an air of unpredictability courtesy of a suite of driver movements and technical changes.
In the final instalment of a two part feature, the 2005 Supercars champion sat down with Speedcafe.com editor Tom Howard to predict the fortunes of Walkinshaw Andretti United, Brad Jones Racing, Kelly Racing, Garry Rogers Motorsport, Tekno Autosports, Team 18, and Matt Stone Racing.
CLICK HERE for the first part of the preview.
Walkinshaw Andretti United (Holden ZB Commodore)
#2 Scott Pye (Mobil 1 Mega Racing)
#22 James Courtney (Mobil 1 Mega Racing) 
SPEEDCAFE: It was an interesting year for Walkinshaw Andretti United which saw improved performances including a race win, as Scott Pye outperformed his more experienced team-mate James Courtney. 
How do you think they will fare this year?
INGALL: I think on the racing side it was quite good last year and you always have to cut things up and look at the positives with a team's performance. When you look at their race results, they always move forward, which is a good sign that they've got good race pace. 
They've got the ingredients there.
Scott Pye still got some decent results last year by racing his way forward. 
But again, it's a qualifying thing, and it's such an important part because if you qualify 12th or 14th or 15th, by the time you get to the front, you're outside the podium. 
You have to start in the top five. If they can qualify the thing well, they'll be on. No doubt about that. 
Will they win the championship? That's a stretch. That's genuinely a stretch, but they've definitely got podium potential, and they've definitely got potential to win races.
SPEEDCAFE: Does Courtney need to fight back this year after finishing the championship behind Pye in the last two seasons?
INGALL: He does. Look, you never like to look outside the sport, but the fact is it's been very public what's been happening outside the track, and it's hard because you need to give your racing 100 percent concentration. 
I'm hoping that that's over the hump and he can concentrate back on his racing.
He's still one of the best racers out there. Don't underestimate guys who can race because the only ones that have made it in Supercars or any racing category, are the ones that can battle wheel to wheel and come out in front.
There's a lot of drivers can go out and do a blistering one lap or can be fast in practice and all the rest of it. But the reason they haven't got full-time jobs is because they can't race.
He can race, there is no doubt about that.
Brad Jones Racing (Holden ZB Commodore)
#8 Nick Percat (Blackwoods Racing)
#14 Tim Slade (Freightliner Racing)
#21 Macauley Jones (Team CoolDrive)
SPEEDCAFE: Brad Jones Racing enjoyed a solid 2018 with Nick Percat and Tim Slade regularly challenging for top 10 finishes.
What can we expect from them this year?
INGALL: They seem to be the king of practice; they always seem to come out the gate well. The inherent problem seems to be the rollercoaster effect. They are reasonably competitive one event, and then down the next and then back up again.
I keep thinking year in and year out, especially when the new Commodore was introduced, they could have half a shot but they could never back it up. 
Unless you're immersed into the middle of it, you never know why. 
Tim Slade and Nick Percat have been around long enough and are experienced enough to know which direction to send the car and to get it where it needs to be, but  they're always skirting around that bottom half of the (top) 10 and that's about it.
For the amount of time they've been in the category, and the equipment, you'd be thinking they should be where Erebus is, but I think that's what's caught a lot of the teams out, is how fast Erebus have come on.
Either the cars aren't good enough or the drivers aren't good enough; there's only two factors. They've got to find out what they're doing wrong.
The cream will still rise to the top, no doubt about it, but the twin spring ban might narrow the gap between the haves and the have-nots.
I know it's a fairly simple sort of item, but you'd be surprised the difference that it does make.
SPEEDCAFE: Macauley Jones is stepping up this year as one of two rookies in the series; how will he fare?
INGALL:  It's going to be a tough initiation because he's got a few tough competitors in there. Unfortunately, we've lost a few, which makes it a little bit easier, it would slide him down probably in the top teens (to) high twenties, and that's going to be it.
I would have thought another year in Super2 wouldn't have done him any harm to be quite honest, but if the opportunity is there, well I suppose you've got to grab it.
Kelly Racing (Nissan Altima)
#3 Garry Jacobson (Rabble.Club Racing)
#7 Andre Heimgartner (Kelly Racing)
#15 Rick Kelly (Castrol Racing)
#78 Simona De Silvestro (Team Harvey Norman)
SPEEDCAFE: Kelly Racing has rebranded over the off season and no longer has the factory Nissan support.
Can they continue to rise after strong 2018 and take advantage of an aero package tweak?  
INGALL: Rick (Kelly) will still be strong, he's a good steerer. It'll be interesting to see what allowances they've been given with the aero package of the car and anything else that we may or may not have heard about.
I expect Rick to lead the way and it's good to see Andre have another stab at it. I think he's handled himself pretty well considering he's had some ups and downs in that category. He seems to have a good technique.
You need to have strong team-mates to bounce off and to push the other drivers on in the same equipment.
Andre's got to perform, but the again, so does half the field if they want to stay in it. Still, I'm glad he got another run at it.
It's the last year for the Altima, so they might as well throw everything at it.
A tweak here and there and you'd be surprised in the difference. I really hope they do (continue to rise) because I've driven the thing. I actually quite like the car to drive, it's very well balanced.
Garry Jacobson seems to be the forgotten guy a bit. A few others stepped out of the Super2 and he was sort of the forgotten guy that didn't get a gig.
We won't know if he has got it until we see him in amongst the pack and this will be his best shot.
There seems to be mixed reviews up and down pit lane about him, but I have half rated him and he seems to have a bit of aggressions too which I always give points for. Time will tell if I'm right or wrong.
SPEEDCAFE: Do you think they will miss Michael Caruso?
INGALL: It is shame that he didn't get a full-time gig as he is a strong pedaler. Unfortunately, in todays environment in motorsport, it comes down to the dollars and cents and that's the issue. Saying that,  he deserves another stab at it.
I think he'll be missed. I would have tried pretty hard to keep him in the car. Like I said, it's commercial reasons why he's not in a full time drive and not ability.
SPEEDCAFE: Third year for Simona De Silvestro; she scored a top 10 last year, is it time for her to push on this season?
INGALL: Simona knows the equipment, she knows all the tracks and this is going to be her best chance to push on. I think she's handled herself really well and again it has been difficult but all she can do is gauge herself against her team-mates and she was right amongst it with regard to times.
I think Simona was hoping the other deal (a move to Triple Eight) was going to come off but it didn't eventuate. Even still, she has a great opportunity. Hopefully she can be a regular in the top 10. 
One of the definites is that Simona is a great ambassador for motorsport.
Garry Rogers Motorsport (Holden ZB Commodore)
#33 Richie Stanaway (Boost Mobile Racing)
#34 James Golding (Boost Mobile Racing)
SPEEDCAFE: Garry Rogers Motorsport made plenty of headlines in the off season with the shock move to replace Garth Tander with Richie Stanaway. I guess there will be plenty resting on Stanaway's shoulders. 
INGALL: Massive, massive amount of stress there. I can't tell what the deal is with him. I think back to his endurance performances a couple of years back along with the results that he got overseas and everyone was going, 'Wow, check this kid out.'
Unfortunately that form didn't translate and he had a shocker of a year. I know he got frustrated and the equipment wasn't the best but it wasn't that bad. It is a real mystery, I don't know if he didn't have his head into gear and definitely dropped the lip towards the end of 2018, but somehow he has been able to wrangle this deal together at GRM at the expense of Garth Tander.
This is it. He has got to make it work. If he comes out and doesn't perform then I'm afraid his time here in Supercars is over. There are no real excuses. They (GRM) weren't the best cars last year, but hey weren't that bad either – at times they proved that – but there was a lot of Tander input there too. 
Tander is a racer and he was able to push that thing forward because of him and they haven't got that there now. 
The qualifying performances were not that good and it was another team that lacked results because of qualifying. 
Have they got someone who can race forward from bad qualifying positions? On paper you have to say no. Losing Tander might hurt them more than you think.
In the whole scheme of things, you've got a couple rookies there, that you're getting feedback from; you haven't got that experience factor there.
SPEEDCAFE: For Golding, is there also a lot of pressure on his shoulders too?
INGALL: He'll be better again for sure, because of mileage; Garry Rogers really rates him.
I'm not privy to telemetry and all the rest of it, so he might be seeing something there that I'm not, but again, he's someone that I reckon got elevated too soon. I would like to see a title under your belt before you get into the main game.
James has had a year under his belt and it'll be easier, and he knows the team and knows the equipment, and all the rest of it. We will wait and see. 
Team 18 (Holden ZB Commodore)
#18 Mark Winterbottom (Irwin Racing)
SPEEDCAFE: Team 18 has made a big move to sign Mark Winterbottom and form an alliance with Triple Eight with up to date machinery. It's a bold statement.
How do you see that panning out?
INGALL: There has definitely been a lot of $100 dollar bills flying out of Charlie Schwerkolt's (team owner) wallet but that is what you have to do if you are going to have a go at it. 
I like the way he has done it too by getting the technical package from Triple Eight, that shortcuts a lot of things and points you in the right direction. They have updated the car and they have plugged in a name driver.
Frosty has still got plenty of life left in him and is one of the fittest guys in the field. I think he will enjoy the single car environment. Some people thrive in it and some don't but he has got enough experience that he should be alright and he shouldn't need to worry about not having a team-mate. Anyway, indirectly they have got team-mates with the Red Bull cars down the pit lane.
I think there are no downsides. They will be on for their best season in Supercars to be honest. Mark will enjoy the car but it will take a bit of time for him to get his head around it.
He has got a very smooth driving technique which the Commodore likes. I think he will surprise people and he should be up there.
SPEEDCAFE: It was a big call for Winterbottom to abandon a Mustang drive at Tickford will he look back on that?    
INGALL: There is pressure in everything you do, but at least it's a nice pressure, because he was clearly frustrated where he was.
 Tekno Autosports (Holden ZB Commodore)
#19 Jack Le Brocq (Truck Assist Tekno Racing)
SPEEDCAFE: Tekno is another team that has undergone changes with the loss of team manager Adrian Burgess and experienced engineer Campbell Little to Supercars' technical department.
Jack Le Brocq was the top rookie last year and performed well last year can he thrive with a new engineering group.
INGALL: It's hard when you make those big wholesale changes, and getting your head around them. 
Jonathon Webb (now team manager) has been around enough, he should have picked up enough to be able to handle things, but I gotta be honest here, it's going to be tough.
Jack will be better because of experience, and he seems a good peddler, and he proved that in Super2, but being a good peddler is not enough.
You still got to have a car under you, and how many times have we seen that over the years where if you don't have the right car under you, it can make you look average at times.
Matt Stone Racing (Holden ZB Commodore)
#35 Todd Hazelwood (TBA)
SPEEDCAFE: It was a challenging debut year in the championship but the squad has now secured an alliance with Triple Eight and an ex-Jamie Whincup car for Todd Hazelwood.
What can we expect this year?
INGALL: Matt Stone Racing will thrive on the link up with Triple Eight, it looks like they are definitely having a swing at it and having a new investor won't hurt. 
As far as Todd goes, hopefully he will have more information around him and he can concentrate on just driving the thing and not about shocks and springs.
I think it will be a lot better for Todd and better for MSR as a team as they will be getting a shortcut to a lot of information. The reason why the single car teams are doing these link ups with bigger teams is down to the lack of testing which I think is ludicrous. 
By limiting testing, all you are doing is playing into the hands of the top teams because they have got the resources and the knowledge to get on top of set-up quicker.
As a general comment, the only problem I see with all this linking up with teams such as Triple Eight, at the very best, all you are going to be is as good as them on the day, but you will never have equipment that is better than them.
That's where I think the model that Erebus have adopted in going their own way was risky, but it has paid off big time.
So there we have it I won't be in Adelaide so I will be relying on Speedcafe.com for my latest information.