Ingall's Supercars 2019 season preview – Part 1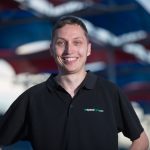 Former Supercars champion Russell Ingall casts his predictions ahead of the 2019 Virgin Australia Supercars Championship Adelaide 500 season opener.
After a busy silly season of movements, the 24-car field is now set to kick off a 15-round battle for Australian motorsport's most coveted championship crown.
Supercars heads to the Adelaide streets with raised levels of anticipation created by the race debut of the Ford Mustang and an air of unpredictability courtesy of a suite of driver movements and technical changes.   
The Mustang has rapidly attracted attention since its launch with many predicting a strong display from the blue oval's latest weapon as six examples get ready to race at Adelaide. 
Meanwhile, the grid has a different look this year with Triple Eight scaling back to two cars following the full-time retirement of Craig Lowndes.
Tickford Racing has a new line-up with Lee Holdsworth taking over Mark Winterbottom's #5 entry with the Ford squad also welcoming 23Red Racing and Will Davison into the fold.
Winterbottom has crossed the divide to race a Triple Eight built Holden for Team 18, while former Tickford driver Richie Stanaway has been handed a lifeline as a shock replacement for Garth Tander at Garry Rogers Motorsport.     
Two rookies will join the field in Macauley Jones and Garry Jacobson. The former has taken over Tim Blanchard's drive at Brad Jones Racing with Jacobson now in Michael Caruso's old seat at the rebranded Kelly Racing. 
Adding to these changes, Supercars has refreshed the technical package headlined by a ban on twin spring dampers which is set to shake up the order.   
In the first instalment of a two-part feature, the 2005 Supercars champion sat down with Speedcafe.com editor Tom Howard to predict the fortunes of Triple Eight Race Engineering, DJR Team Penske, Tickford Racing and Erebus Motorsport.
Triple Eight Race Engineering (Holden ZB Commodore)
#88 Jamie Whincup (Red Bull Holden Racing Team)
#97 Shane van Gisbergen (Red Bull Holden Racing Team)
SPEEDCAFE: Triple Eight had another strong year, winning the teams' title while Shane van Gisbergen came up just short in the title race and Jamie Whincup was unusually out of the title hunt. 
Do you expect the two drivers to be fired up for a title push this year?
INGALL: Look, you'd have to have rocks in your head or not know the sport to say that they're not going to be quick. There's no doubt about it. They've got a known product. They haven't had a change of car and they can fine tune that. 
However, I think they might be ones that might well have to get their head around going back to a linear spring because they were one team that could really make the twin spring work really well. Their guys were really clued up on it, so I think that might drag them back a little bit.
Whincup will be fired up again. He had unfortunate circumstances last year that sort of kept him out the championship hunt in the end while SVG was right there until the death knock. They are both star drivers. For anyone not to tip them, you'd have to be crazy. There's no doubt they'll be strong, but I don't think they'll be the fastest. But they'll be consistent, and at the end of the day, this year could be about consistency more so than just going for outright wins. It might pay off in the end.
I have to say Shane is in my top three drivers in the category and one of the best racers in general, not just Supercars, he has shown he can perform in anything from drift cars to GT machines. He will come back stronger and I see him and Scotty continuing as favourites.
That's my unbiased prediction about Triple Eight.
SPEEDCAFE: When Whincup goes a season without a title victory we often see a reaction from him the following year. Is that what you are expecting?
INGALL: Jamie realises that however long he's going go on for – maybe (only) a few more years, unfortunately, because the category could do without losing any more names – he'll want to put in a couple of big efforts, and he's in a pretty good space a the moment. He's very Marcos Ambrose in a lot of ways. He is very low key away from the track, and on the track he doesn't like any controversy and gets on with the job.
SPEEDCAFE: Will Triple Eight miss Craig Lowndes with regard to the extra data of a third car?
INGALL: No, not at all. I think up to a point it will probably be better. There'll be more focussed on those two as well with resources. It's very taxing with more cars around. No matter how well organised you are, it's a lot of work. Running two cars is a nice little package. It's just neat. It's tidy. I don't think that will have any effect whatsoever.
DJR Team Penske (Ford Mustang)
#12 Fabian Coulthard (Shell V-Power Racing)
#17 Scott McLaughlin (Shell V-Power Racing)
SPEEDCAFE: Moving to Shell V-Power Racing, do you see them as favourites this year with the arrival of the Ford Mustang after Scott McLaughlin's title triumph last year?
INGALL: I think the stuff that I read out of the tests, they didn't put tyres on that thing. There's plenty left there, and he was only a few tenths away. They're too smart to show their hand straight up, in which case I reckon there's a bit left in the tank there. And the kid's (McLaughlin) good.
He seems pretty motivated to push on and you don't get slower as you go on.
Hopefully, Fabian will pull his finger out a bit this year too and have a better run and support each other because you need a strong team-mate. You need a strong team-mate to push you along, and you need it because if it comes down to the crunch time at the end of the year, whoever's in front may need help.
SPEEDCAFE: How do you think McLaughlin will go now that the monkey of winning a championship is off his back?
INGALL: I thought he did a good job last year. I thought he was unravelling in New Zealand when SVG was playing the mind games with the park in, and the next day he came out and pounded it. 
I was pretty impressed with that, so I think going on that, it's not so much winning the championship; it's knowing you can deal with the competition. 
If you can't mentally deal with your opposition, well, you're never going get the cup.
I think he learned how to deal with them and not get intimidated, which is a pretty cool thing as well because there are very few drivers that I think get on top of that, as far as just being intimidated.
He's going be stronger, knows how to do it and I think that car's going to be better, so you'd have to lock him in (as a favourite).
SPEEDCAFE: It is going to be a big year for Fabian Coulthard after a difficult 2018 and talk surrounding his future at the team beyond 2019.
He has to perform this year, surely?
INGALL: This is it. The pressure is on. I've been down that road before with a strong team-mate in Marcos Ambrose. This is the year you have to do it because, like I said, the roadshow will come to the end, and it's a vicious sport out there at the moment. Ask Garth Tander and Michael Caruso.
Money is definitely not a problem with the team, but performance is. They'll be just as tough for a different reason as they want results from both cars. This is a make or break one for the boy for sure.
Tickford Racing (Ford Mustang)
#5 Lee Holdsworth (The Bottle-O Racing)
#55 Chaz Mostert (Supercheap Auto Racing)
#6 Cameron Waters (Monster Energy Racing)
#23 Will Davison (Milwaukee Racing) 
SPEEDCAFE: Tickford had a difficult year by their own high standards in 2018 but with the arrival of the Ford Mustang and a new driver line-up, there must be some optimism there.
INGALL: A couple level-headed drivers joining the team, and more so with Lee especially, you know the cars aren't going to come back in a skip bin each round, which is important because when you're running four cars, if two of them keep getting trashed it saps resources and mechanics' time and all the rest of it.
It's going to be, I think, a calmer year for them. But, at the end of the day, they're going to have to come up with gizmos. It's all about development. That's why Penske got where they are. You just have to keep coming up with new bits and they've got some cluey guys there. There's no reason why they can't come up with some good gear, but again it's gonna be the consistency factor. Their consistency was a rollercoaster as far as speed goes last year. Their aim has got to be to find the speed every single meeting.
Davo will be good. He'll be reliable. Again, he's sensible and will bring the car back in one piece. Like Fabian, it's a big opportunity but he has got to make it work. No excuses now. He's in with one of the big three teams, got the right car and got enough funding. So if he makes it work, and he'll stick around for a bit longer; if he doesn't make it work, well then he'll be back to the skip bin with all the others.
SPEEDCAFE: It will surely be a big year for Chaz Mostert, who is the final year of his contract, and Cameron Waters after a difficult 2018.
INGALL: Cam just had a bit of a wobble and I think the problem is when you haven't got car speed, you tend to try and overdrive the thing. And when you overdrive it, that's when things go down. 
So I think if he gets good car speed and that confidence back again… he's a good little driver.
Anyone that thinks to go motor racing and not have some mongrel in them, they're not going to win. He's shown in Development Series that he's got a bit of a dog in him, but that only comes with confidence and speed. I genuinely hope he has a good year. 
As far as Chaz goes, I feel sorry for him. He's the top choice. He's as good as McLaughlin and SVG but he sort of fell off the radar with everyone last year because he wasn't up there, and it's not because of his own fault. He just didn't have the car speed.
There's nothing about his ability that is even questionable. I just hope that they (Tickford) give him a good platform to show that because if you listen to all the groundswell, which is always dangerous, if they don't get the car under him I think he'll be off to other parks.
SPEEDCAFE: Could the Mustang be the saviour if you like and lift Tickford back up?
INGALL: I think so because if the aero is better, which I'm predicting it will be, it just makes an easier platform to work with. The guys that are really cluey, hence Penske, have the funding to figure out how to get the most out of the package. If you've got a better base package to start with, it's just easier to work with so that will narrow the gap between the haves and the have-nots.
At the end of the day, money buys speed. There's always  one team that always will outspend the other. But, for sure, hopefully the gap will be less, and driver ability will be the difference.
Erebus Motosport (Holden ZB Commodore)
#9 David Reynolds (Penrite Racing)
#99 Anton De Pasquale (Penrite Racing)
SPEEDCAFE: Erebus Motorsport had a fantastic season last year and emerged as a genuine title contender. Can they build on that this year?
INGALL: They had a fantastic year. Really impressive car speed, impressive consistency and good team dynamics with Anton there as well and pushing Davey Reynolds. He needs to be pushed and I think having a driver as fast as Anton pushing him is great.
I think some of the motorsport experts have been tipping Davey for a championship contender 'as they were probably told not to tip Triple Eight'.
I certainly hope they get up. They'll definitely win races. Can they win the championship? Are they there yet? I'm not sure.
All the general punters out there are certainly hoping so. They want to see that. It would be great for the sport if it did because they are seen to be a privateer team. Everyone likes the underdog tag. 
Can they do it? Again, it will be down to consistency; they're going to have to be consistently fast everywhere. 
Davey's gonna have to concentrate on this. Sometimes he strays off into Davey Reynolds land, and sometimes that's a different world than where everyone else lives. 
He's gotta probably spend a little bit less time there and a little bit more time on Earth. 
I think he'll have the car under him. I really like the way Barry Ryan runs the shop. It's really impressive in keeping emotions down, he gets on with the job and is a good leader, which is what you need. He's done a remarkable job since he's been at the helm.
I think he'll have the equipment and the team behind him. Just Davey's got to concentrate on racing.
With Anton, we've seen some really star performances, Bathurst being one of them as far as qualifying goes. He's just got to get his head around being consistent in qualifying. 
I think he can race fine. He can race with the best of them. I rate anyone that's done a decent amount of years overseas and done it tough like he has.
Log on to Speedcafe.com on Sunday for the final part of Ingall's Supercars Preview, featuring Walkinshaw Andretti United, Brad Jones Racing, Kelly Racing, Garry Rogers Motorsport, Tekno Autosports, Team 18, and Matt Stone Racing.