Supercars to open REC tender once 2020 calendar secured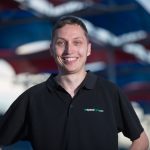 Supercars is aiming to open a tender for two spare Racing Entitlements Contracts by mid season once it has locked in its 2020 calendar plans.
Last year saw high profile teams Triple Eight and Tickford Racing hand back RECs as the former scaled down from three to two cars following Craig Lowndes' full-time Supercars retirement.
Tickford retained three of its own entries as it welcomed 23Red Racing into its stable to ensure it continues to run four cars.
The championship wishes to increase its grid back up to 26 cars with the handed back RECs already receiving interest from prospective parties.
Supercars is however currently working through a significant change to its 2020 calendar which will see the series incorporate a summer series element with the year expected to start earlier and feature a mid-year break.
A REC tender is not expected to open until the 2020 schedule is in place and communicated to potential REC buyers, according to championship boss Sean Seamer.
The championship hopes to have its 2020 plans secured by June this year.
"We're working backwards from the entry deadline in October," said Seamer.
"There's a few things that we need to do in terms of planning for next year, around what's happening with the calendar, so that people that are buying a REC or looking to enter the series know exactly what series they are entering.
"I think middle of the year is when we'd like to (open the tender).
"It's quite a bit of work to be done, the calendar needs to be done, so we're looking to do all of our planning for next year earlier, so that it'll lead into the entry deadline a lot more smoothly than what it did last year."
Seamer revealed late last year that there had been plenty of interest in the RECs but is unsure if the talk will materialise into new entries for 2020.
It has been reported that parties including Scott Taylor Motorsport and Boost Mobile founder Peter Adderton are interested in purchasing RECs.
Kostecki Brothers Racing were understood to have been evaluating the purchase of Tekno Autosports' entry last year while Matt Stone Racing has also indicated a desire to own an entry instead of leasing the REC currently owned by former Supercars full-timer Jason Bright.
"At the end of the day, as with any motorsport, discussions are one thing, and actions are another, so we'll do everything that we can, to get our work together, get our act together, get the plan together, so that the people who are looking to potentially enter the series have all of the information that they need," Seamer added.
"I can't control what other people are going to do. I can certainly control what we're going to do in terms of putting the information together, and making that decision whether, it's a yes or a no, as easy as possible for them."