Supercars element at future Bathurst 12Hr 'not off the table'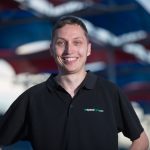 A Supercars element at future Liqui-Moly Bathurst 12 Hour events is not off the table, according to championship boss Sean Seamer.
Talk of Supercars featuring at the world renowned Mount Panorama GT classic has emerged ever since Australia's premier series acquired ownership of the race back in mid 2015.
Suggestions have included the possibility of Supercars teams conducting a test day at the venue earlier in the week prior to the GT action.
Seamer has confirmed that discussions surrounding Supercars involvement at future Bathurst 12 Hour races have been held with the idea not entirely inconceivable.
However, he has affirmed that there are several factors to consider and hurdles to overcome before progress can be made.    
A possible tie-up would have to work for Supercars teams and not impact any of those operations that would be involved in running entries in the 12 Hour.
"I think there are two things to think about; what does that impact have on the schedule for the teams, our existing teams, and what impact does that have on our teams that may want to enter into the 12 hour as well?" said Seamer.
"So if we were testing on Thursday, or Wednesday, Triple Eight wouldn't be running a Mercedes with the three guys that they've got in their car, so you've got to be really careful about what trying to load too much does to the dynamic of the event. 
"But would people want to do more testing at Bathurst, absolutely, but it's got to make sense from the time and point of view, and we've got to be very careful that we don't end up washing everything out by trying to do too much in one weekend. 
"It's been discussed, it's not off the table, but it's something that needs fit into the season planning, because if you're testing this early in the year, then everybody's working over Christmas to get ready, but if you're doing something as part of a summer season, it's a lot easier to justify."
Meanwhile, Seamer has indicated that Supercars is looking to learn from the success of elements of this year's Bathurst 12 Hour.
The Town to Track parade is being earmarked to be replicated at this year's Supercheap Auto Bathurst 1000 in October.
This concept saw cars from each GT manufacturer represented, drive from the track to Bathurst town centre under Police escort before parking up for a function at Bathurst's Carillon war memorial.
In a nod to a similar parade utilised at he Spa 24 Hours, the concept proved popular with fans at this year's race.
"It sounds like it went really, really well, and I think it's something that we'll continue to do, and I think we're going to look at doing it for the 1000 now as well, getting the cars down there for 1000," added Seamer when asked by Speedcafe.com.
Supercars has confirmed this week that it is looking to firm up its 2020 schedule by June this year as it intends to move to a summer series concept.