Dane: Teams facing set-up rethink following twin spring ban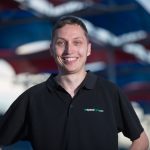 Triple Eight boss Roland Dane believes a 'rethink' will be required from all teams when setting up Supercars this year following the ban of twin spring dampers.
Supercars' decision to outlaw the complex and expensive twin spring damper systems to save teams cost and labour has proved a hot topic ahead of next week's Superloop Adelaide 500 season opener.
A move to linear springs in the rear of the cars has changed the handling characteristics providing a new technical challenge for teams, while threatening to shake up the championship pecking order.
Reigning Supercars champion Scott McLaughlin admitted following last week's test at Phillip Island that, 'you have to really drive the cars now' with the linear spring set-up.
Over the last 10 years Triple Eight has pioneered the use of the twin spring system and invested resources in refining the dampers, which allows teams to run different spring rates for corner entry and exit to improve car handling.
The squad were among a group that struggled to master the change at last week's pre-season test with Shane van Gisbergen and Jamie Whincup ending the day in 14th and 19th respectively.
According to team boss Dane, mastering the move to linear springs is his squad's main focus heading into Adelaide.
"If you apply any degree of logic, the fact is the cars were better and quicker with the twin spring arrangement than they were with the single spring," Dane told Speedcafe.com.
"In our case we have been using the twin spring for a decade so therefore it would be naive to think that the cars were going to go as well on a single linear spring on the back of the car. 
"Everyone has got to have a bit of a rethink and for sure it will change the characteristics of the car and I think you will notice it at some circuits more than others. 
"It means we have to get our heads around a different method of tuning the cars and the drivers are going to notice."
While Triple Eight has openly admitted that it struggled to adjust to the spring changes at the test, Dane has warned that it would be 'silly' to cast judgement on his squad's Adelaide credentials after one test.
"We have won masses of races with linear springs in the past, but I think somewhere there was a preoccupation within the team and outside the team of looking at lap times," he added.
"I think very few people were entirely happy with the car because they were measuring it against how the car had been when we were last there.
"The track varied hugely during the day. Temperature and tyre quality varied hugely so anyone who jumps to conclusion from test day is pretty silly." 
The Adelaide 500 is scheduled to kick off the season from February 28-March 3.