Rookie day to help Kelly Racing understand new aero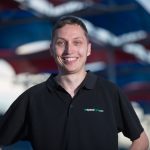 Understanding the Nissan Altima's new aero package is among the key aims for Kelly Racing during a rookie day for Garry Jacobson at Winton.
The Braeside squad has elected to utilise one of three permitted rookie days for Jacobson to gather crucial information to be used across its four cars and help prepare its new recruit for the season opening Superloop Adelaide 500. 
Last week's pre-season test at Phillip Island was the first time the squad had tested the latest specification Altima that has undergone modifications to its splitter and gurney flap for the new season.
The changes have resulted in a significant shift in balance for the car which has prompted the team to use a rookie day earlier than it had anticipated.
Rick Kelly was the top Nissan at the Phillip Island test in 13th spot ahead of Andre Heimgartner in 15th, while Simona De Silvestro ended up 22nd, with Jacobson in 23rd spot.
"Basically off the back of the test we decided we wanted to go to Winton, which is a little bit more representative of Adelaide than Phillip Island," Kelly Racing team manager Scott Sinclair told Speedcafe.com.
"With the changes in the aero package and some other things we want to get a few more kilometres under our belts, and Garry didn't come away from Phillip Island as comfortable as he would have liked, as the cars were a little bit different to what we were expecting. 
"We got on top of the (new) ECU pretty quick and wasn't a big deal for us but the there are still a few things we would like to work on with that, just minor things with how the engine reacts. 
"We dabbled with linear (springs) last year so wasn't as big a concern for us as maybe some of the other teams.
"The big one for us is the tweaking of the aero package. The balance has shifted without doubt and we knew it would. 
"It is just a case of getting an understanding of that because we have had that previous aero package for three years. 
"We are just trying to iron out few things with our base set-up."
Jacobson will be joined at Winton by fellow Supercars rookie Macauley Jones who is also conducting the first of his three allotted rookie days.
Jones was due to complete a rookie day earlier this month before rain forced Brad Jones Racing to reschedule for today.
Meanwhile, Erebus Motorsport will operate an evaluation day for Dunlop Super2 rising star Jordan Boys, with the 21-year-old set to pilot a ZB Commodore.
The squad's lead driver David Reynolds will be on hand to complete the permitted 10 laps as per Supercars evaluation day regulations.
Like Kelly Racing, the Melbourne team is hoping to carry out work in understanding the new control ECU while assessing young gun Boys.  
Super2 entries from Tickford Racing, Brad Jones Racing and Image Racing will also be in action.