Wall Racing acquires second Honda for TCR Australia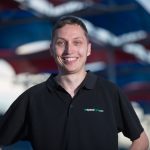 Wall Racing has secured a second Honda Civic Type R to contest the inaugural TCR Australia series this year.
The Sydney-based squad will expand to a two car operation with this latest Civic Type R joining a car that was originally leased from Honda's official homologation team J.A.S Motorsport, based in Italy.
As well as the new car purchase, Wall Racing has also secured a deal with J.A.S Motorsport to become the Australian agent for the Honda TCR vehicles in Australia.
The addition of two TCR cars for Wall Racing will make for a big year for the David Wall-owned team, entering cars for customers in Carrera Cup, GT3 Cup Challenge, Australian GT and now, TCR Australia.
Wall Racing is yet to confirm drivers for its TCR program although team owner David Wall is working to secure established professional racers for the seats. 
"We're pleased to have secured a second Honda Civic Type R for the 2019 TCR Australia Series," said Wall.
"It is an exciting new championship to Australia and we are getting closer to locking down drivers to fill the seats.
"At the moment, we'll start the season by running two cars ourselves, but we have the capabilities of running up to five, so we'll just see what the interest levels are like in the coming weeks.
"We're happy to run multiple cars and service other Hondas at the events. They don't have to be run by our team. We are being very flexible with our customers.
"I'm working on getting some 'professional' drivers in the cars. I feel that it is important to have a strong line-up of drivers, but we're also open to amateur racers too. 
"The category is user-friendly and cost-effective, and now with the TV deal on SBS in place, there's even more reason to compete.
"I have to thank the team at J.A.S Motorsport for its assistance with securing the Hondas. They are an extremely well built car and have proven their competitiveness all around the world."
The two Hondas will join four Hyundai i30s confirmed for the series alongside two Alfa Romeos run by Garry Rogers Motorsport. 
It is also anticipated that vehicles from Audi and Volkswagen will feature on the grid. 
Last week the series confirmed that all races from the seven round championship will be broadcast live on free to air channel SBS.