Supercars clarifies 2020 summer series concept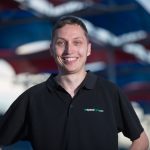 Supercars is aiming to have its summer series calendar shift for 2020 locked in by June with next season expected to be played out within the calendar year.
The championship intends to make significant change to its 2020 schedule as it aims to race in better weather windows, while restricting clashes with the NRL and AFL.
It is anticipated that racing will begin in January and finish in its traditional November/December slot but factor in a break during the winter months.
While some events are expected to move dates with Sydney Motorsport Park tipped to hold a January slot, races in the hotter regions such as Townsville and Darwin are likely to remain in a similar position.
The concept is being worked through by Supercars with CEO Sean Seamer aiming to have the 2020 schedule in place by June.
Initial talk of a summer series had promoted the thought of seismic shift that would have seen racing over two calendar years, similar to New Zealand and Formula E, but it appears that all races will be run in 2020.   
"The (2020) calendar and the summer series is very important," said Seamer when asked by Speedcafe.com about the championship's 2020 plans. 
"Racing in a better weather window, whether you call it a summer series or some other variation of that, yes we are very much looking to race in the better weather windows with the events that aren't what we would believe in optimal spots throughout the year. 
"Obviously reducing overlap with AFL and NRL and some of the sports where we do have the most overlap. If we can find a better space, get better weather, we're going to do that.
"So people do jump to that (2019-2020 season idea). I think 2020 is most likely to get played out within that calendar year for a championship point of view, but it doesn't mean that we're going to be racing all winter."
The 2020 calendar concept has been discussed with teams who understand the reasons for the shift.
However, Supercars is still working through the finer details including the prospect of forced shutdowns for teams during the Christmas holidays.   
"I think they (the teams) understand," Seamer added.
"Obviously we've got to be careful that we're giving people time off over Christmas. 
"The last thing you want is having guys getting ready for next January and having to run all through Christmas because it'll kill people and make it harder to retain and recruit talent. 
"Both with Supercars and the teams there's a heightened awareness of that.
"But everybody understands that, If you're able to run later at night or in better weather windows, it's going to help your TV ratings and it's going to help your ticketing. Ultimately, it's better for the fans and it's better for us."