Mustang spares production in overdrive for Adelaide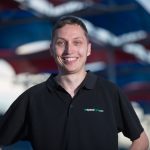 Ford Mustang panel production has turned into a seven day a week process to ensure teams have enough spare parts for the Superloop Adelaide 500.
Blue oval teams Shell V-Power Racing, Tickford Racing and Milwaukee Racing have already spent the off-season working around the clock to complete the builds of their Mustangs in time for last week's pre-season test at Phillip Island.
Now all six of the cars have hit the track, the focus has shifted to building up a surplus of spare parts for the new Mustangs at the season opener on the Adelaide streets later this month.
With the clock counting down to Adelaide, panel production is in full flow to ensure teams have a full suite of parts.
Milwaukee Racing boss Phil Munday has overseen much of the process with his composite business in Melbourne producing parts for the Tickford run cars.
"We'll get to Adelaide with a full set of spares for everyone, and a full set of spares for the cars, and some spares on top of that as well," Munday told Speedcafe.com.
"Everyone's pumping, we are working seven days a week, and there really is no rest at the moment because it's just got to be done.
"It will back off after Adelaide and there'll still be some spares that we need to do again.
"We'll just keep the pressure up until we get good support behind us of parts that I'm comfortable with that we have got enough."
Likewise, Shell V-Power Racing's suppliers have been working solidly through the off-season to make sure the cars for reigning Supercars champion Scott McLaughlin and Fabian Coulthard are adequately serviced with a stock of parts.
"You can never have enough, but all of our suppliers have been working through the break to make sure we've got plenty of stock," said Shell V-Power Racing managing director Ryan Story.
Last year Holden teams were in similar position with regard to parts following the introduction of the ZB Commodore.
Homologation team Triple Eight sent a communal truck of parts to Adelaide to cater for the Holden runners at the event.
The Adelaide 500 will take place from February 28-March 3.