More resilient Ricciardo refreshed after reset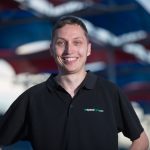 Renault F1 new recruit Daniel Ricciardo believes he is more resilient heading into the new Formula 1 season having come through a frustrating end to his time at Red Bull.
The Australian cut a drained and dismal figure during the second half of the 2018 season as several mechanical failures saw a promising campaign that yielded wins in China and Monaco end with Ricciardo threatening to sit out the final two races of the year. 
While admitting that at times he wanted the sport to 'p*** off', the 29-year-old feels the experience has made him stronger with the Perth native rejuvenated for the next chapter of his career at Renault.
"I certainly took some time off at the end of last year, everyone likes to switch off for a bit, and more than ever I needed that last year, over the Christmas," said Ricciardo.
"I was able to get a good chunk of time at home back in Australia, and not really put much thought into F1.
"I think just for my head space, that was cool to reset and I look back on it, and last year there was a lot of times I was frustrated.
"I was pretty much done, and I wasn't interested in rocking up to the next few races.
"I kind of reflect on those moments; what I took from that is it's ultimately because I care, and because I believe that I belong here and I belong at the top tier of that sport, and that's why it can get me down.
"These, at the time, are all negatives because I'm just wanting to walk away and tell the sport to p*** off for a second.
"But as I reflect on it, it is really just because I care about it. These are really positives that I take now looking forward. My skin has become thicker because of it."
Ricciardo is set to kick off his 2019 F1 campaign in earnest this week as pre-season testing begins today at Spain's Barcelona circuit.
The seven-time F1 race winner cut his first laps in the all new Renault RS19 on Saturday as the Enstone squad completed a shakedown of the car.
Ricciardo has openly admitted that he will likely be set for a season in the midfield as Renault aims to close the gap to F1's big three; Mercedes, Ferrari and Red Bull.
However, there has been plenty of encouraging comments from within the Renault ranks regarding improvements to the engine, which has lagged behind those of the championship protagonists.
"It's certainly what you want to hear during the winter," Ricciardo added when asked by Speedcafe.com about Renault's engine upgrades.
"It's such a crucial time, and I guess all you can really hope for, at least from my perspective, the driver's point of view, all we can do is wait and hear the good news, and so far is has been good news. It's been positive. 
"They've had a strong winter, they've made improvements. 
"They're not also saying that these improvements are going to put us on a Mercedes level or anything, but all we can ask for is a step in the right direction, and it certainly seems that way. 
"It's a good place to start, absolutely, and then again that's all we can ask for now. 
"We may get on track and it may be a different story, because race cars can be strange pieces of machinery, but up until this moment now it's positive."
The F1 paddock is set to convene in Barcelona this week for the first of two four-day tests prior to the season opening Australian Grand Prix at Albert Park from March 14-17.