Le Brocq gelling with new engineering group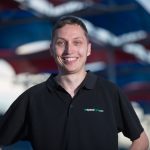 Jack Le Brocq is confident he has a solid crew behind him after an off-season that saw key personnel changes take place at Tekno Autosports.
The Queensland squad will operate with a new team manager and race engineer after the loss of experienced duo Adrian Burgess and Campbell Little, who have both since joined Supercars' technical department.      
Team owner Jonathon Webb has taken over from Burgess while Tim Newton has been recruited as a replacement for Little, with the engineer among a number of new faces at the operation.
Newton engineered Alex Rullo at Lucas Dumbrell Motorsport in 2017 before moving to Image Racing to work with Super2 young gun Jordan Boys last year. 
The new look line-up worked together for the first time trackside at last week's pre-season test at Phillip Island.
"There's been lots of new people over the break, but we've still got a great crew," Le Brocq told Speedcafe.com.
"We got a few new boys on the tools, but everyone's getting along really well.
"Everyone did a great job and it's one of those things where everyone will gel more as the year goes on and see what happens.
"It worked really well with Tim, and it's one of things, you just build the relationship throughout the year, and more you work together the more you understand each other, it should be really good."
The test ran relatively smoothly for the one car team as Le Brocq adjusted to the new linear spring damper set-up alongside the new control gearbox and ECU.
The 26-year-old, who finished as the top rookie last season, revealed that the technical changes have presented his team with plenty to understand before the Superloop Adelaide 500 season opener.
"It was a good test day for us," he added.
"(It was) one of those days where there's a lot of new things going on under the car and it's more just for us to get our head around that, understand it all, and iron out any little gremlins we got. 
"The ECU thing's still ongoing and a bit of work for everyone to do to get that right, but the new gearbox went really good, it's a lot nicer shifting up and down the box, so that's really nice. 
"With the springs I suppose, it's the same for everyone. It's just going to be one of those things that everyone has to get an understanding of, of how it does react with the cars and different circuits.
"Everyone was happy, so we will pack her up and just go to Adelaide."
The Adelaide 500 will take place from February 28-March 3.