Kelly Racing working hard to entice new manufacturer for 2020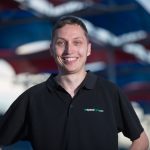 Kelly Racing is working hard to attract a new manufacturer into Supercars for 2020 but team principal Todd Kelly admits that despite plenty of interest time is ticking to complete a deal.
The Braeside operation is assessing options beyond 2019 as it looks to secure a new alliance following the departure of Nissan at the end of last year.
Nissan's decision to quit the sport has forced a rebrand to Kelly Racing for this season which sees the squad operate four privately run Nissan Altimas.
Having enjoyed a six year stint as the factory Nissan team, the operation has revealed there has been interest from marques that are considering entering the sport in the future.   
"We've been working pretty hard trying to bring in someone new, and there's a lot of interest out there, but it's all about the timing," Kelly told Speedcafe.com.
"Unless we can make some progress reasonably quickly, it's going to be a pretty big challenge to do anything for next year, so that'll be a big decision to see what, if we don't bring somebody new in, what it is that we do? 
"It'd be a shame, even though Nissan don't have a direct involvement, it'd be a shame to go back to a two-make series, but they're things that really, is not much point discussing until we know exactly what our options are for next year."
Kelly stresses that securing a new manufacturer deal is the team's priority over becoming a customer Ford or Holden operation.  
"That's definitely our Plan A, to have a crack and do it all again (with a manufacturer)," added Kelly. 
"We don't make very good customers, because we're set up to be a homologating team and a manufacturer team. 
"We wouldn't even remotely resemble what we currently are as a team, if we had to go and buy Ford parts or Holden parts. 
"That's not what we are. It's not what I want to be either, so we'll give it everything we can to bring in somebody new."
Kelly admits that in an ideal world the squad would need to have had a 2020 manufacturer deal in place by last November to be ready for next season.
Although, the former Supercars driver believes there is still time to prepare, homologate and develop an entirely new package for next year.  
"Well, really by last November, December (we would need to have a deal done)," he added. 
"You can make anything happen to a certain degree, but the shorter the time frame the more expensive it becomes, because the more resources you need to pile into it. 
"So, certainly (we can) still make things happen now, but it'd be a little bit more expensive than what it would've been had we have worked out where we were going in November, December, but never say never."
Kelly Racing's four Altima entries for Rick Kelly, Andre Heimgartner, Simona De Silvestro and Garry Jacobson all hit the track this week at the Phillip Island pre-season test.